2 Gang 2 Way Wifi Smart Light Switch Diy Breaker Module Smart Life/Tuya APP Remote Control,Working with Alexa Echo Google Home
by Moes
Product Features:
1.Easily replace your traditional switch to make your life smarter.To make your 2 Gang 2 Way switch smart,you just need to install one smart switch like this,which is suitable for EU/UK switch box.Please confirm the size before ordering.
2. Wirelessly control your lights or devices through voice or use your Smart Phone and Alexa or Google assistant.
3.The maximum voltage load of this switch module is 220-250volts and 2*5 amp,which can control different kinds of lights and appliances.
4.Providing with 2.4G Networks from your mobile phone to connect the switch module, no HUB required.
5. Popular Versatile APP like smart life/Tuya(Android / iOS) allows a full Control of your lights or compatible appliances. Multiple program options allow us to set the precise time to turn on the lights , fans or other devices automatically.
6.Give your devices an ultimate smart makeover.You just need to connect this smart module with your device and power source,and most of the compatible products can be converted to smart ones.
Parameter:
Product type:2 Gang Wi-Fi Switch Module
Voltage:90-250V AC 50-60Hz
Current:2*5A Max.
Load:2*1150W / 2*150W for LED lamp
WiFi frequency:2.4GHz - 2.4835GHz
WIFI Operation temp.:-10 Celsius - +40 Celsius
Case temp.:Tc: +80 Celsius (Max.)
Operation range:less than or equal to 200 m
Dims (WxDxH):46x46x18mm(without clip)
IP rating:IP20
Warranty:3 years
App:Smart life/Tuya
Voice control:Amazon Alexa/Echo/Google home
Manual:
https://drive.google.com/file/d/18PAJLB5xgwkR2yjSLxEU8j80MDmEDMB7/view?usp=sharing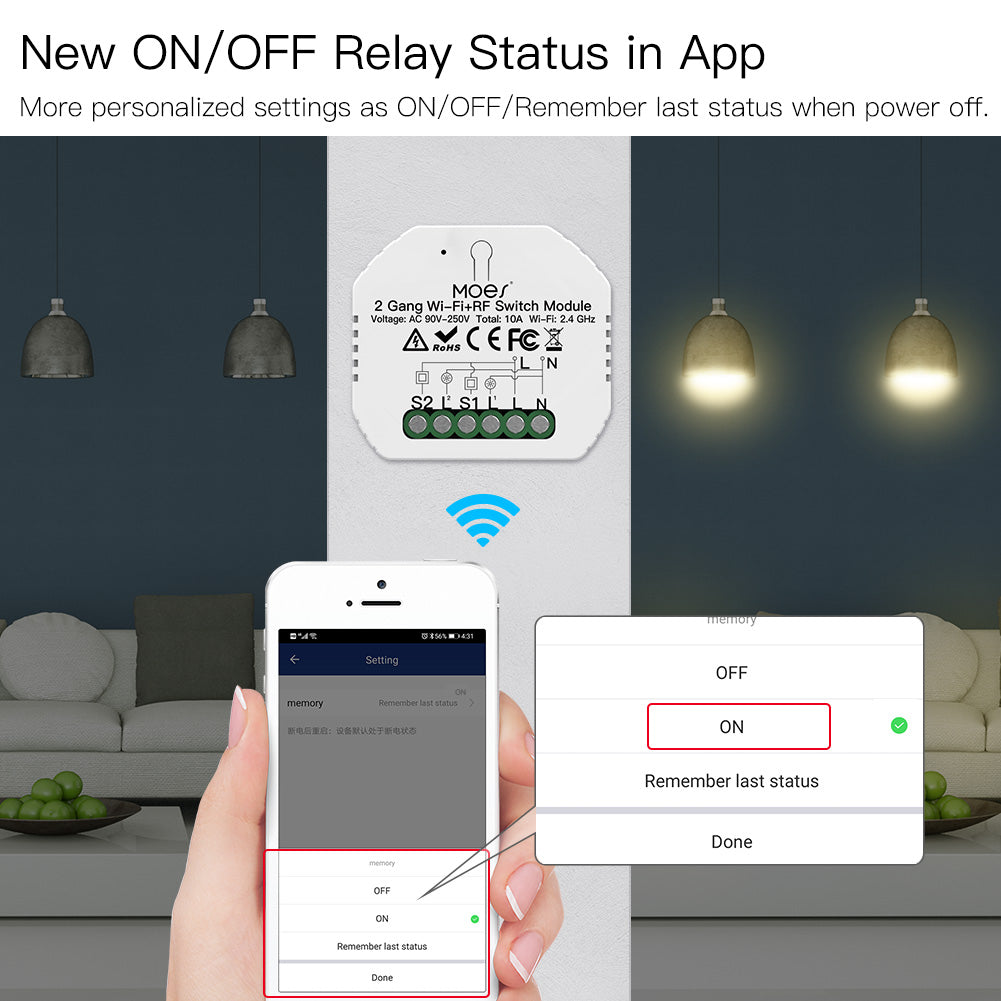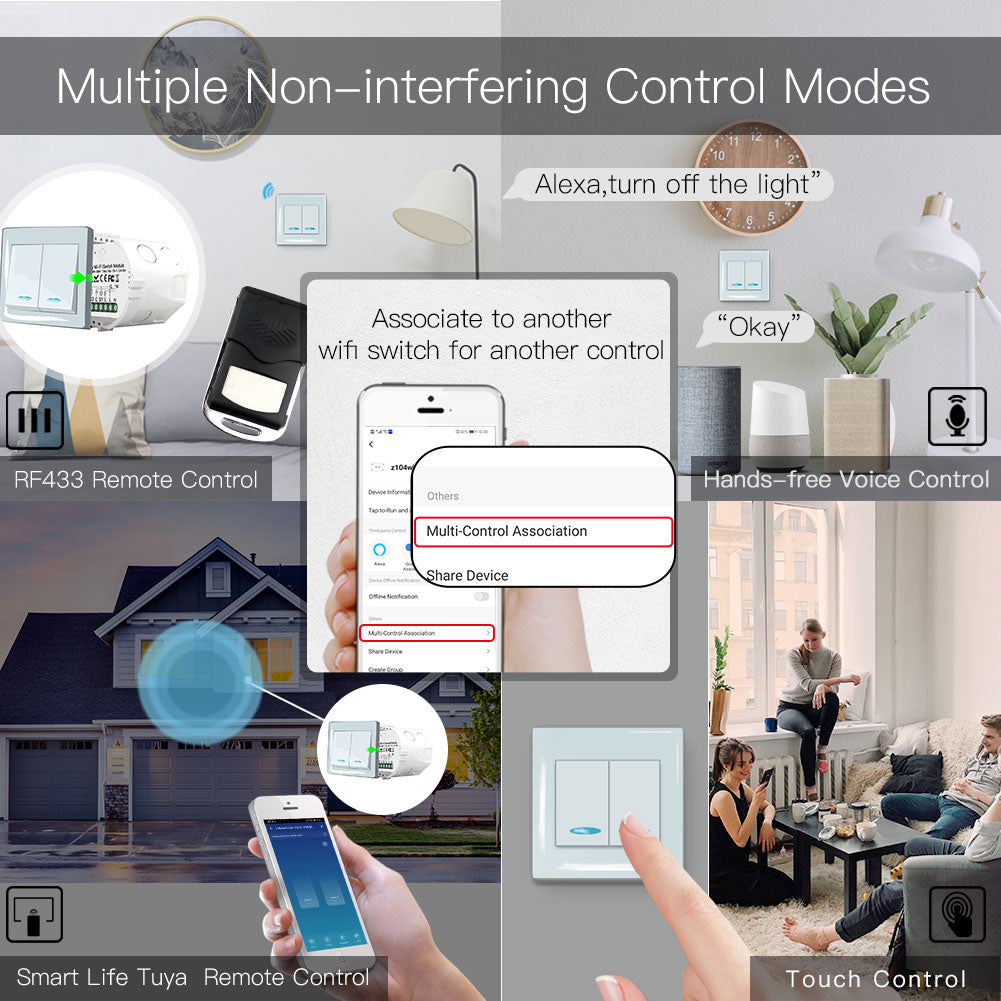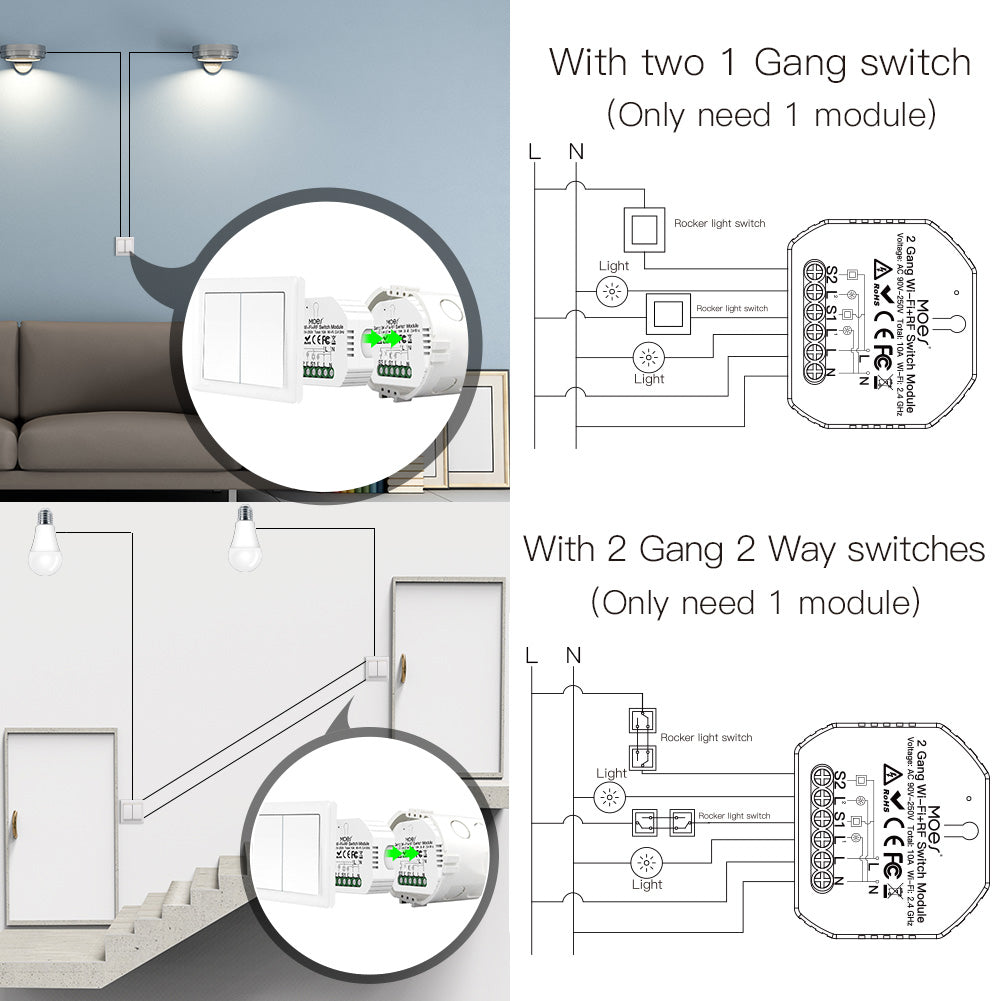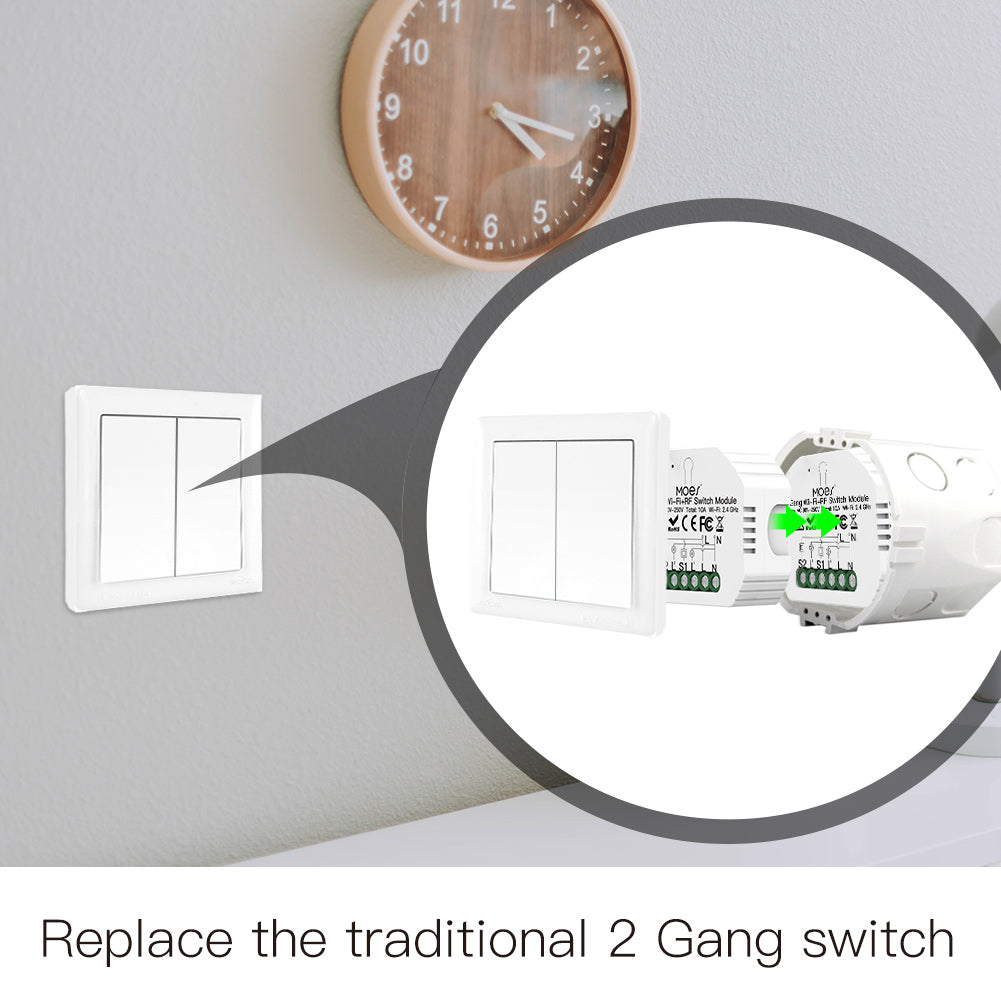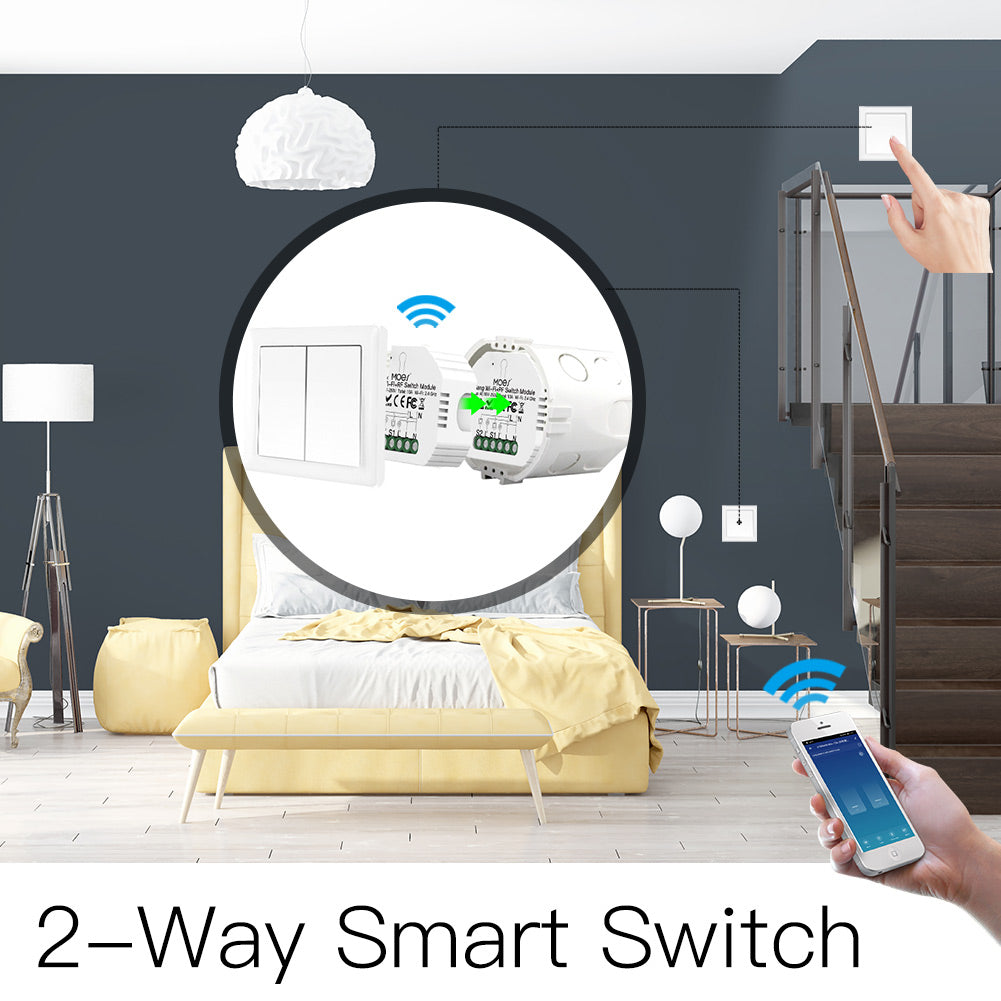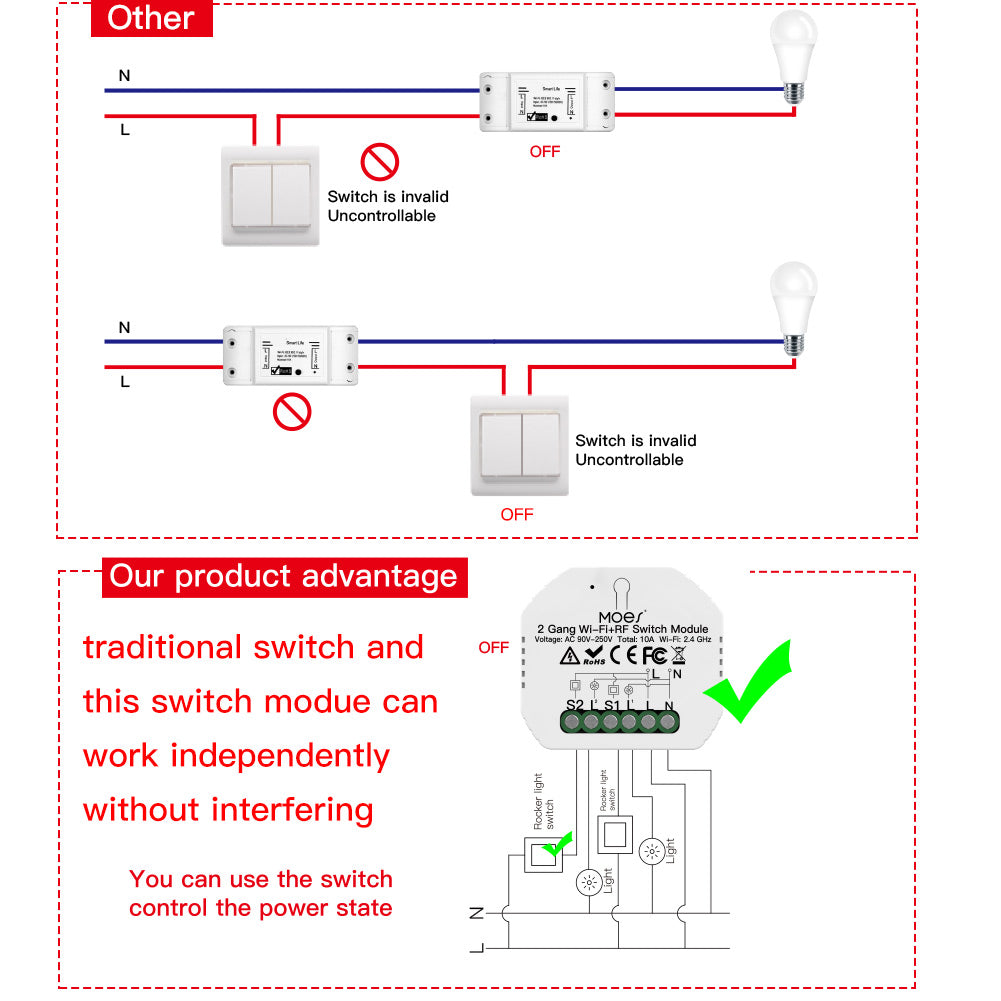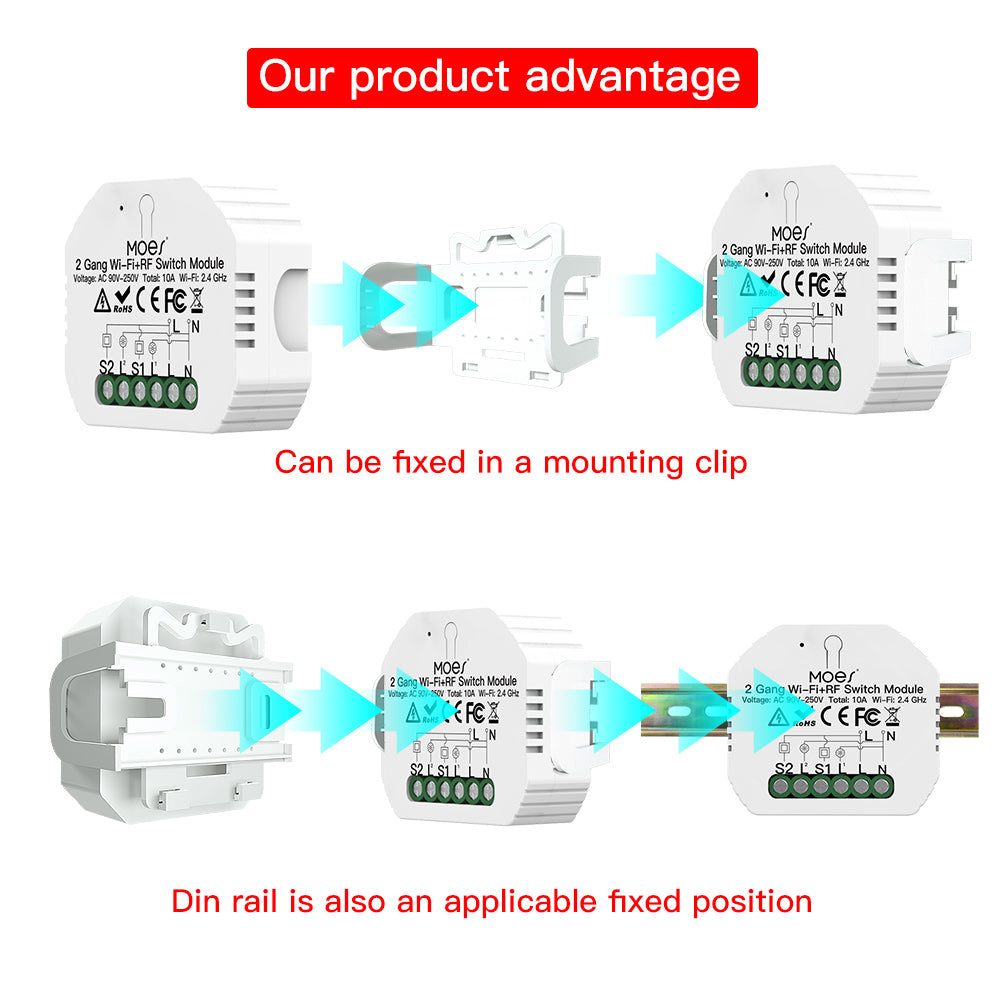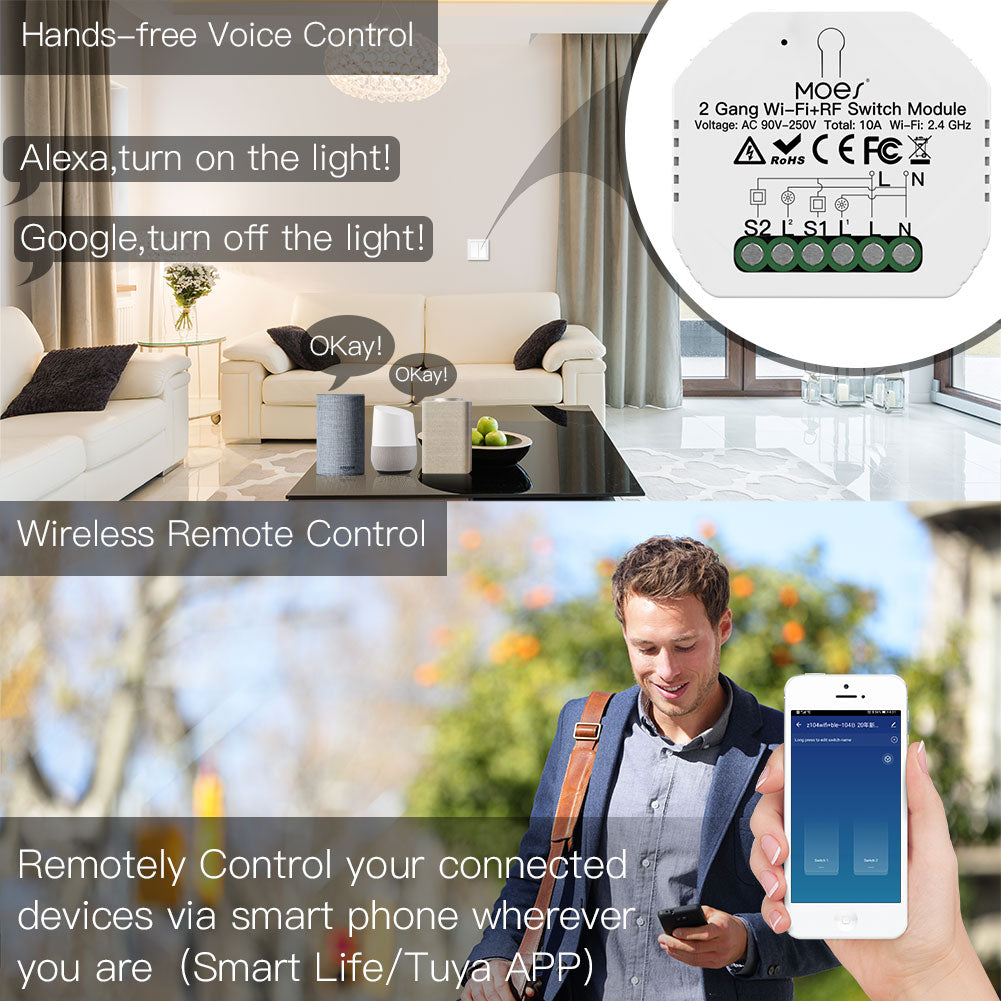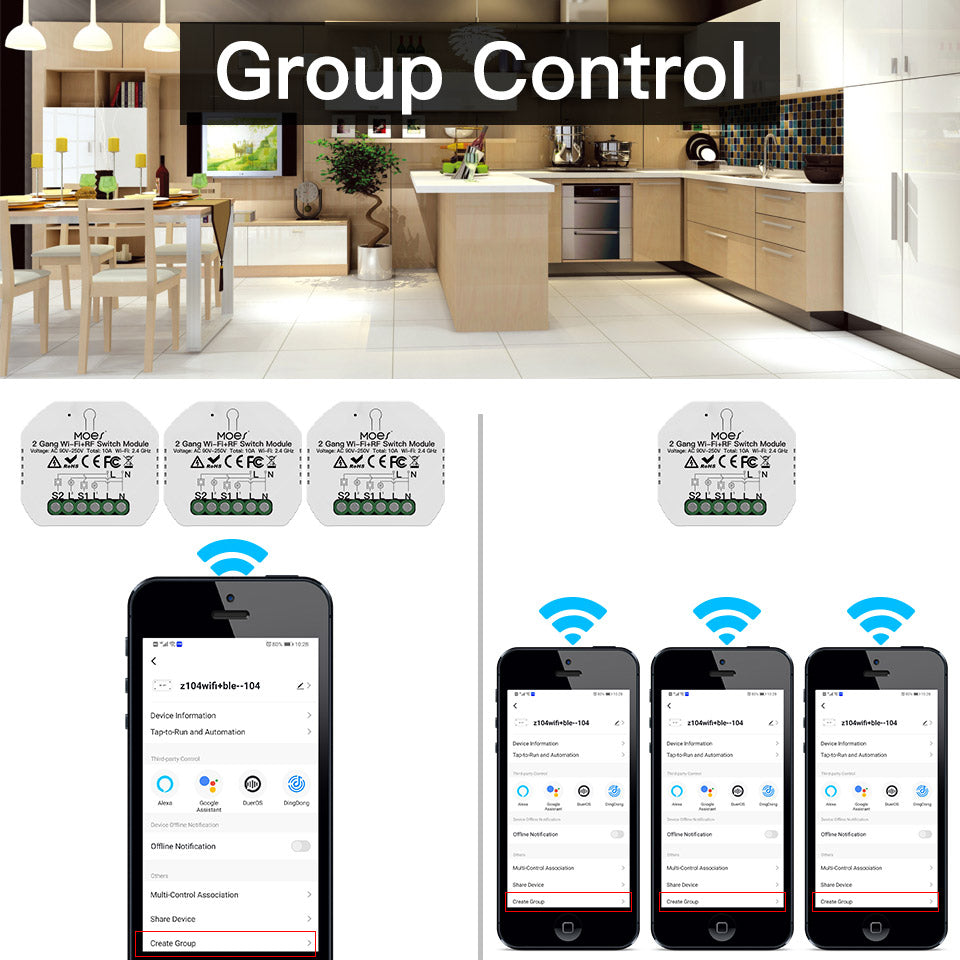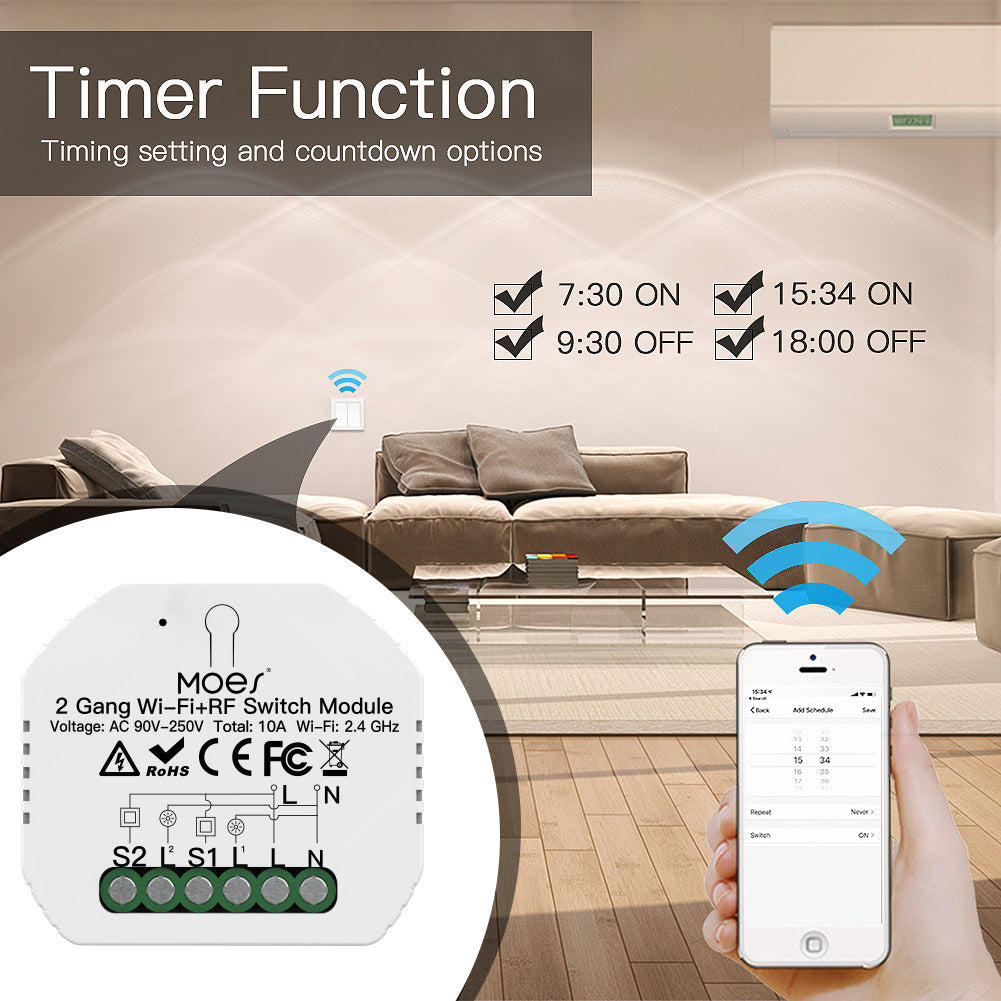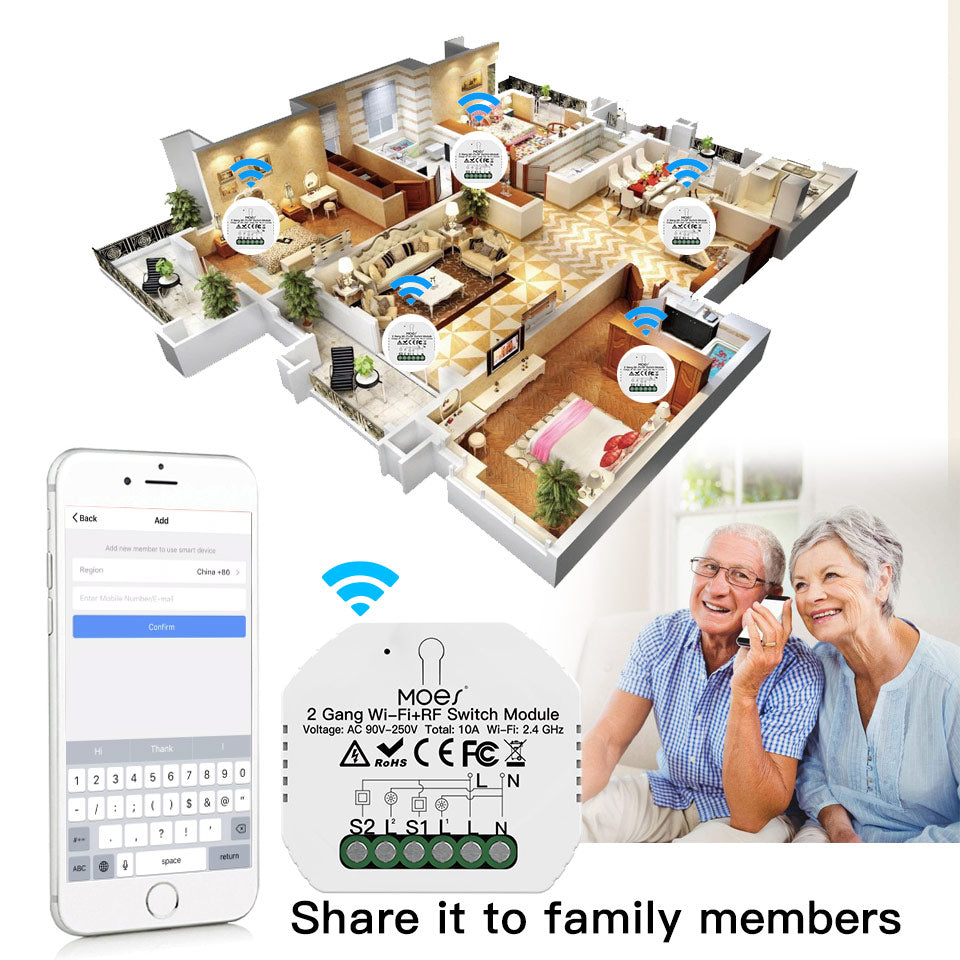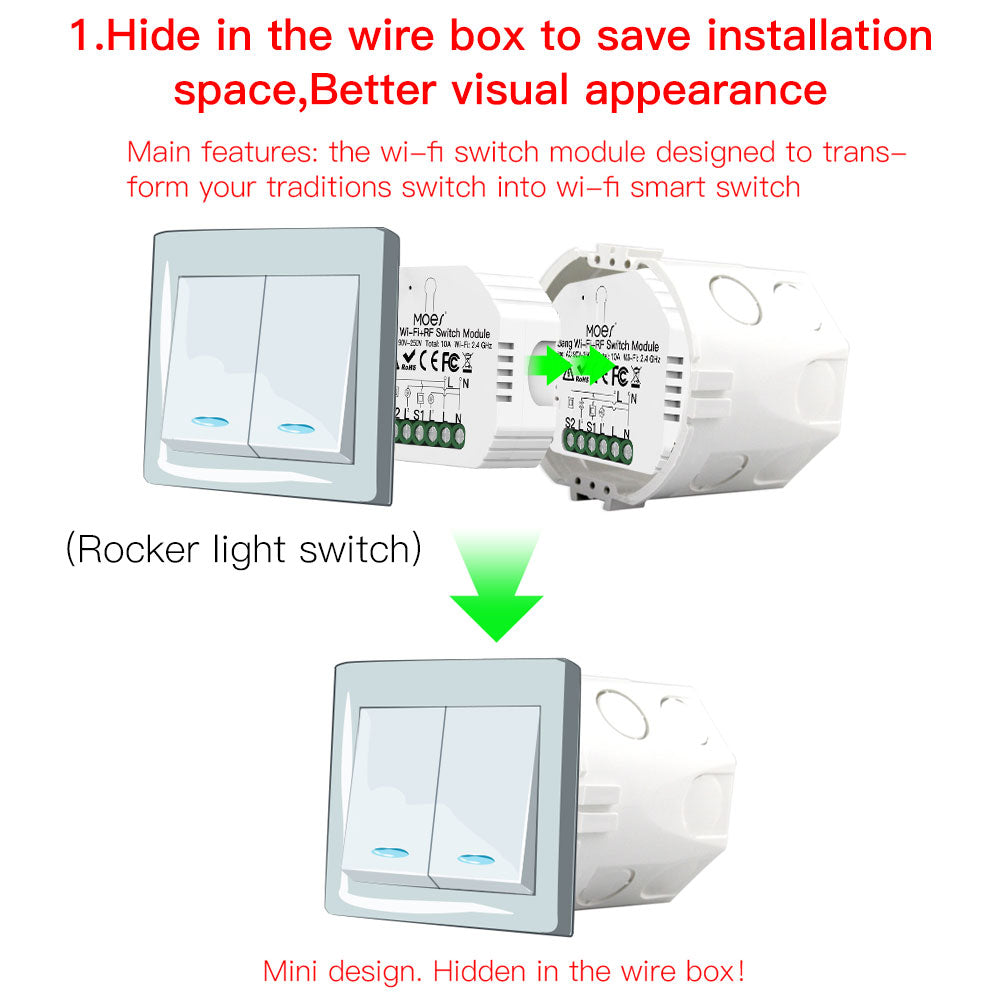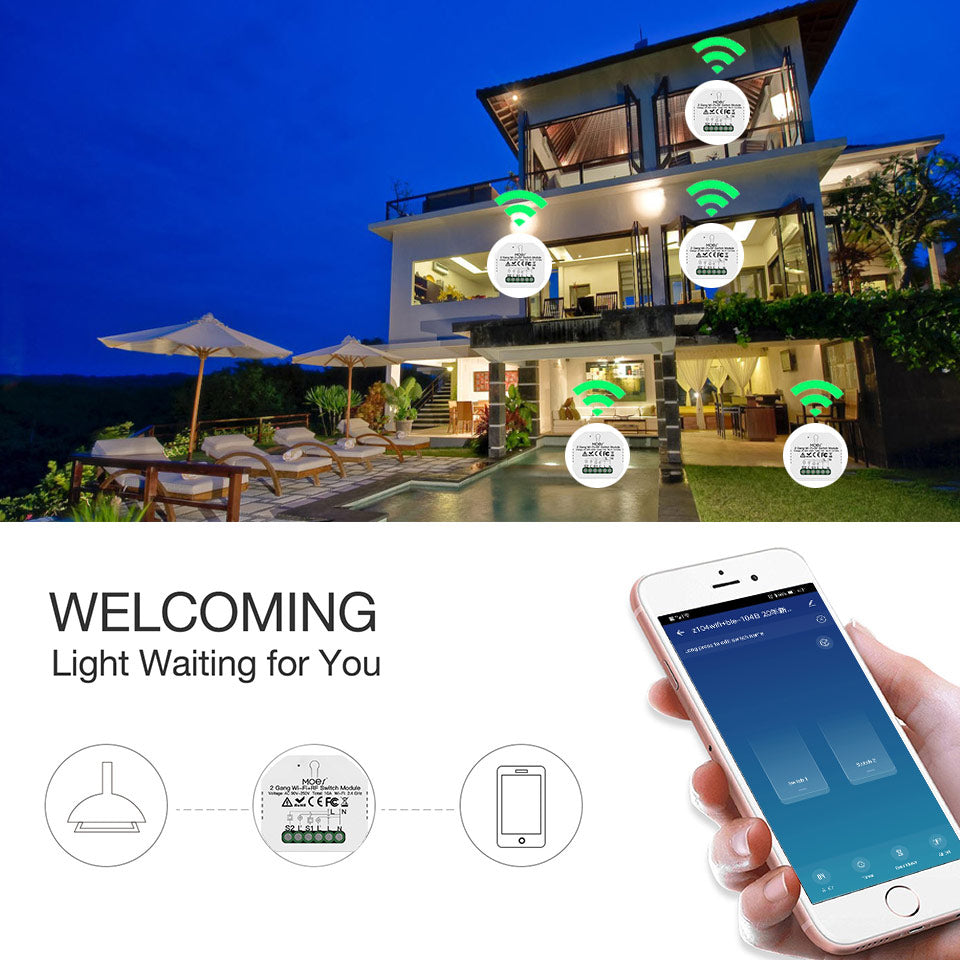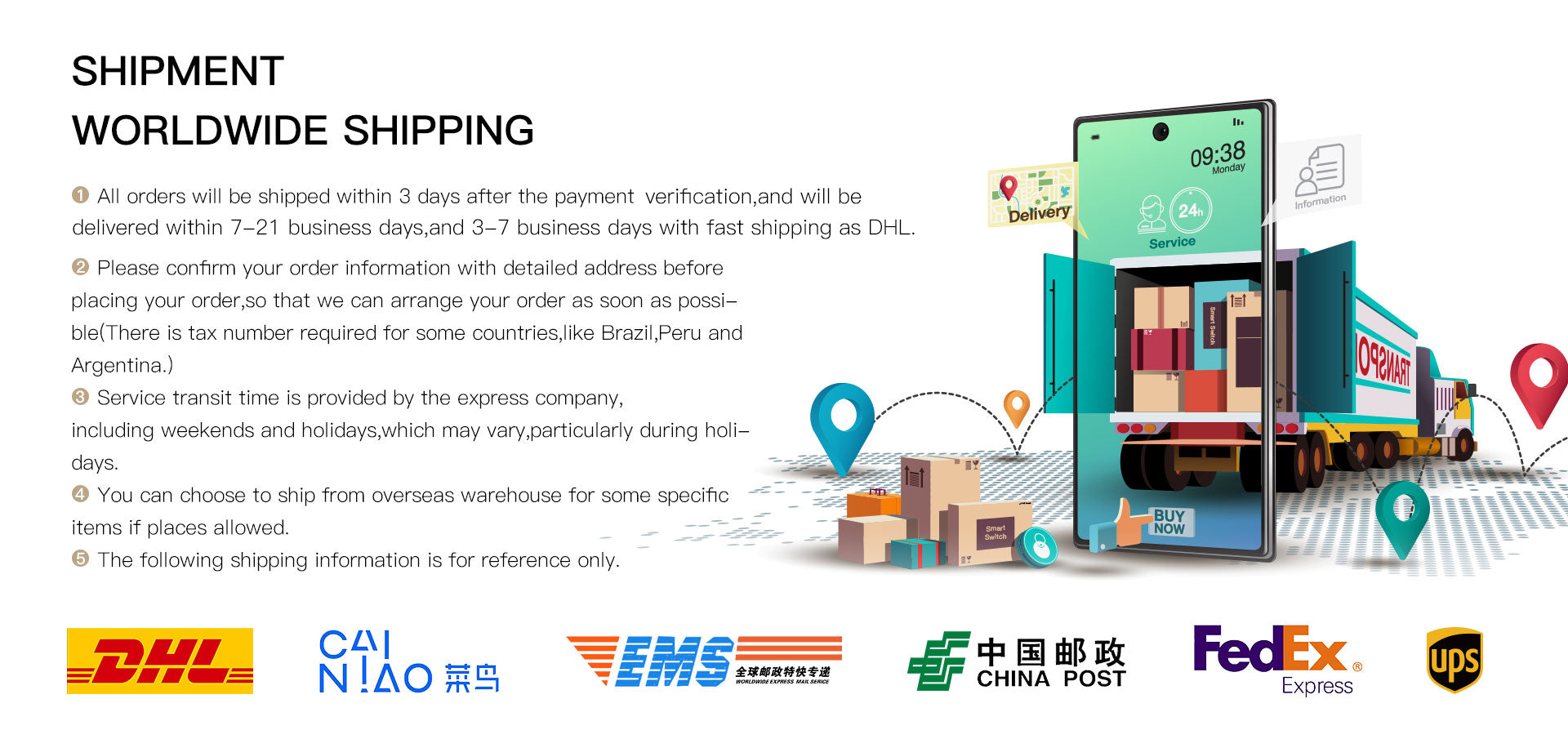 Q&A:
Q1:What should I do if I can't configure this switch module?
a:Please check whether device is powered on.
b:Make sure your mobile and switch module are under the same 2.4Ghz WIFI network.
c:Whether it's in good internet conditions.
d:Make sure the password entered in App is correct. e:Make sure the wiring is correct.
Q2:Which products can I control with the device?
A.You can control all type of lights,and electrical products in accordance with the device specifications.
Q3:What happens if the WIFI goes off?
A.You can still control the device connected the switch module with your traditional switch and once WIFI is active again the device connected to module will connect automatically to your WIFI network. If you have any more questions,please contact us.