WiFi Smart LED Light Bulb Dimmable Lamp 14W,RGB C+W Color Changing 2700K-6500K Warm White to Daylight,Smart Life Tuya App Music Rhythm Remote Control Work with Alexa Google Home E27
by Moes
Main Features:
1.Hands-free Voice Control: Our smart ledlight bulb is compatible with Amazon Alexa and Google Assistant for easy voice control. Just control it via your voice command to turn on/off or dim/brighten your light, even switch your light to specific color as you need and music lighting effected by surrounding sounds to cater for different color scenes.No hub required and easy to install. NOTE: WiFi smart led light bulb only supports 2.4 GHz Wi-Fi network with 110/220V voltage(optional) featured.
2.Timing and Remote Control: You can turn on/off the light as per yourself daily timetable, and you can control the smart bulbs anywhere you like via your Smart Life Tuya App. Don't worry whether you had turned off your lights or not, just pick up your phone and turn lights off or turn on them before you get home.(Compatible with Android & iOS) 
3.Group Control & Control Together: You can set many light bulbs as a group and control them in app, just take an action to control them. And also you can share it to your family members via 'smart life' app so that they can share the intelligent control at the same time!
4.14W RGB+C+W LED Bulbs: Unique bulb type with 14W and 1500Lm for lighting your life with different dimming experience. White light warm light, light and dark adjustment, 16 million colors RGB full color adjustable,easily changed by your mood.You can smoothly adjust it from warm white to cool white and cold light to warm light from 2700k to 6500K, just choose the brightness as needed and it also support to change color automatically by the surrounding sounds,as music rhythm.Even intelligent scene linkage, preset scene one-click execution to meet your different demand.
5.Save Energy & Multipurpose: Ultra low power consumption and save over 60% energy compared with ordinary bulb.The bulb can be used in anywhere you need colorful light with smart control. Such as home, hotel, meeting room, restaurants, bar, cafe, holiday.Full 2 Years Warranty,for All Moes Smart devices,60 Days Refund Guarantee,Your complete satisfaction is Moes goal for all its customers.
Package Listing
1*Smart LED Light Bulb
1*User Manual
Specifications
Wireless type: Wi-Fi 2.4GHz
Rated power: 14W
Voltage: AC110V/220V (optional)50/60Hz
Base interface: E27
Color temperature: 2700-6500K+RGB
Compatibility: E27 standard light
Luminous Flux:1500lm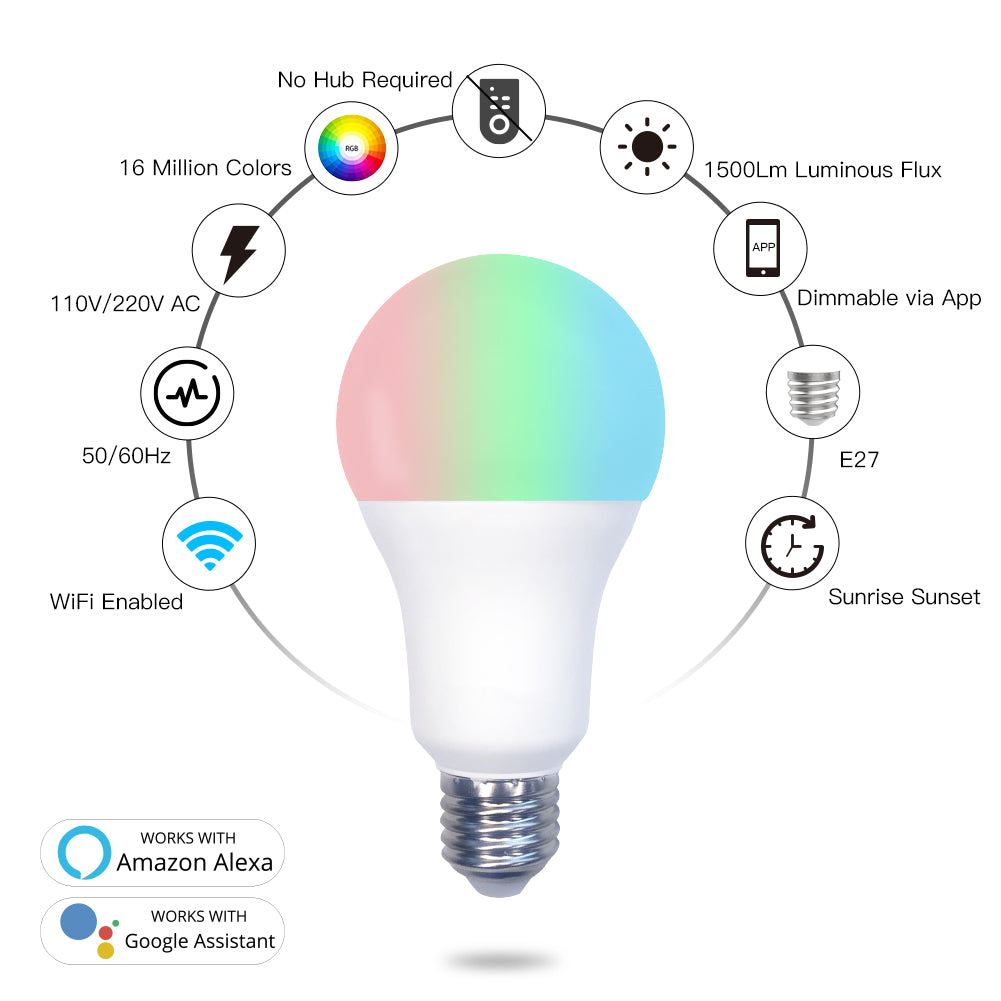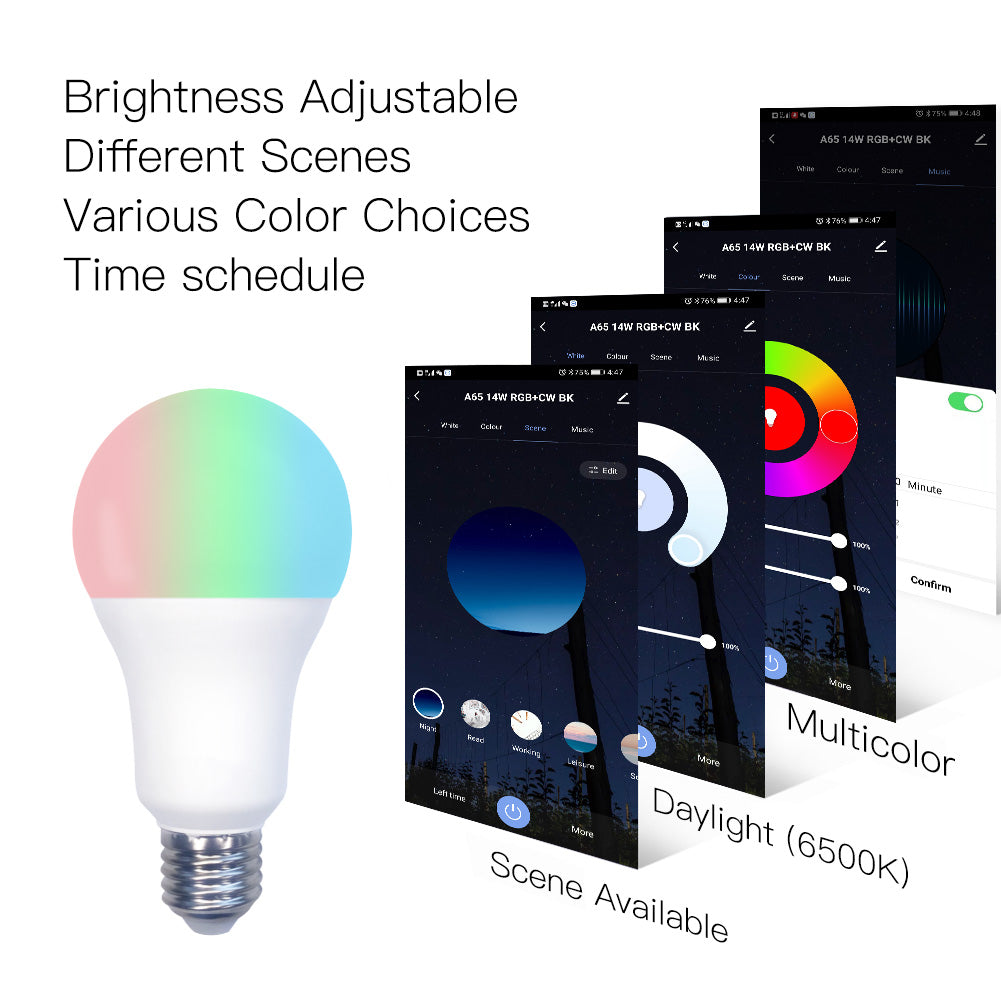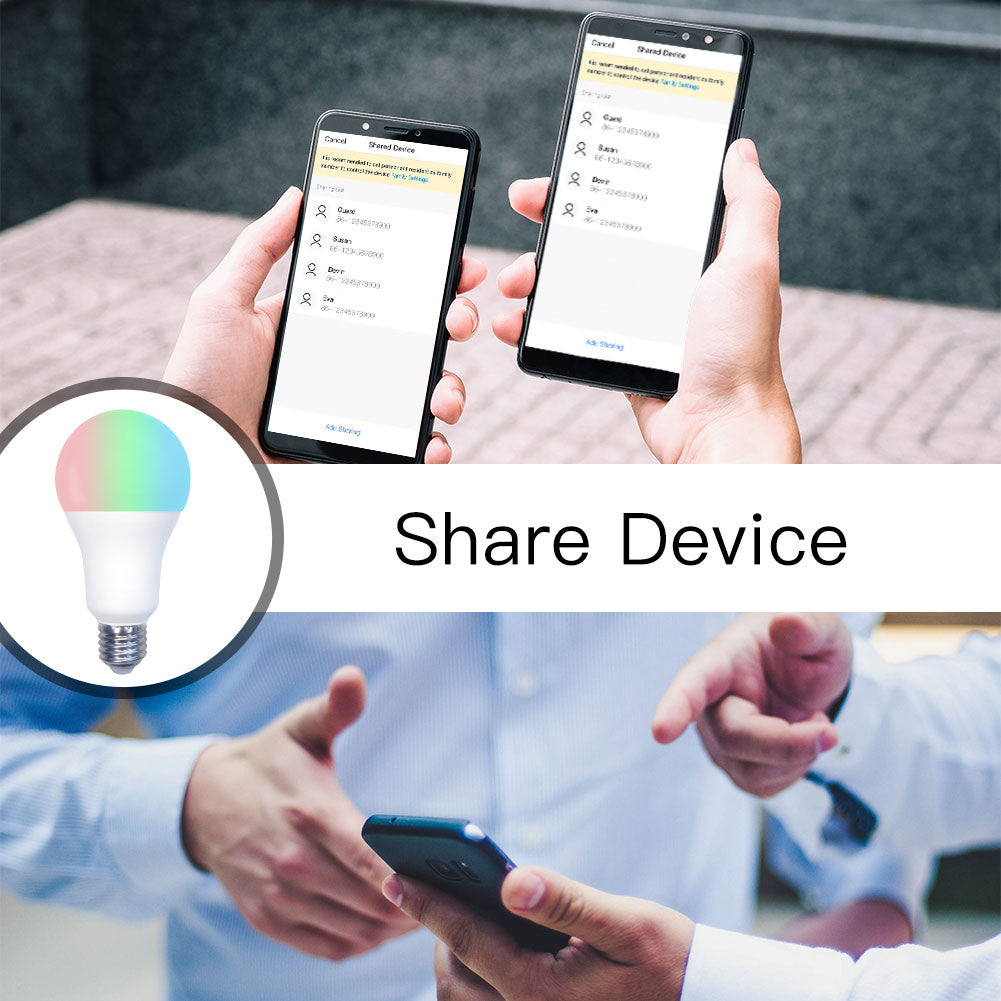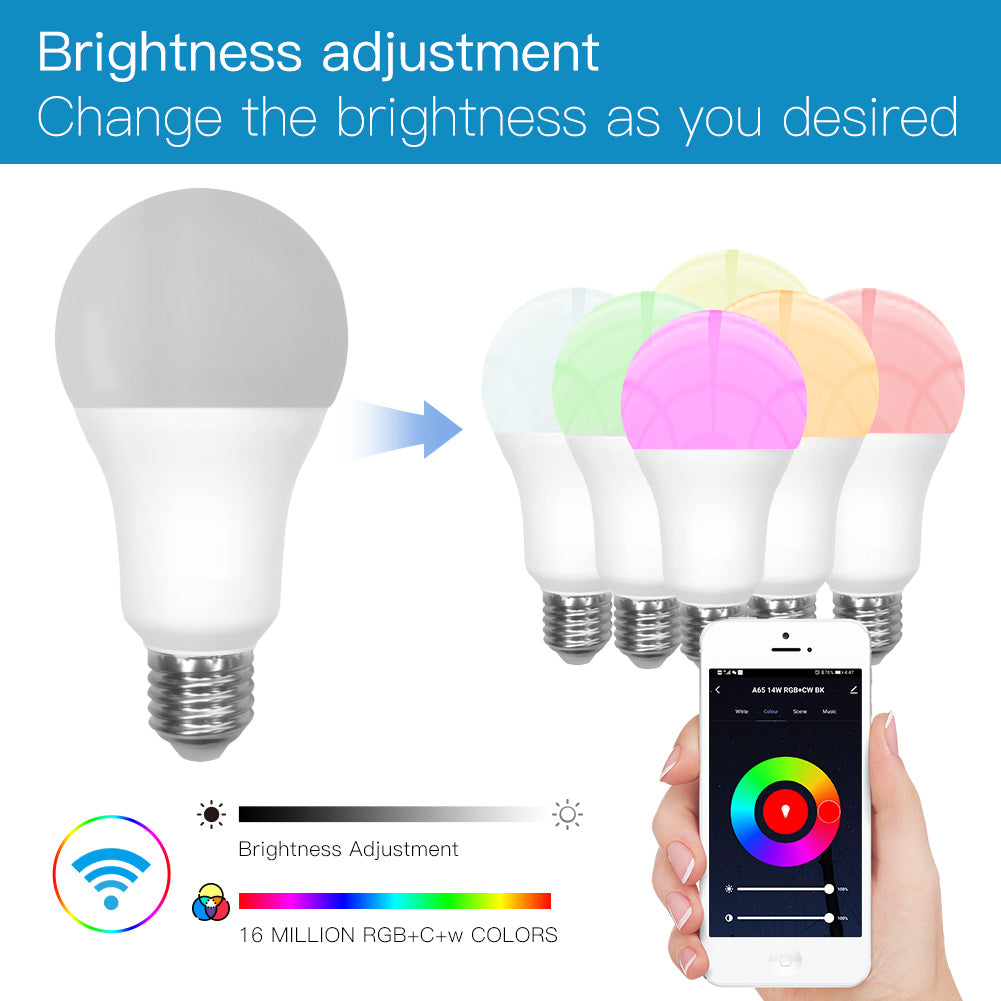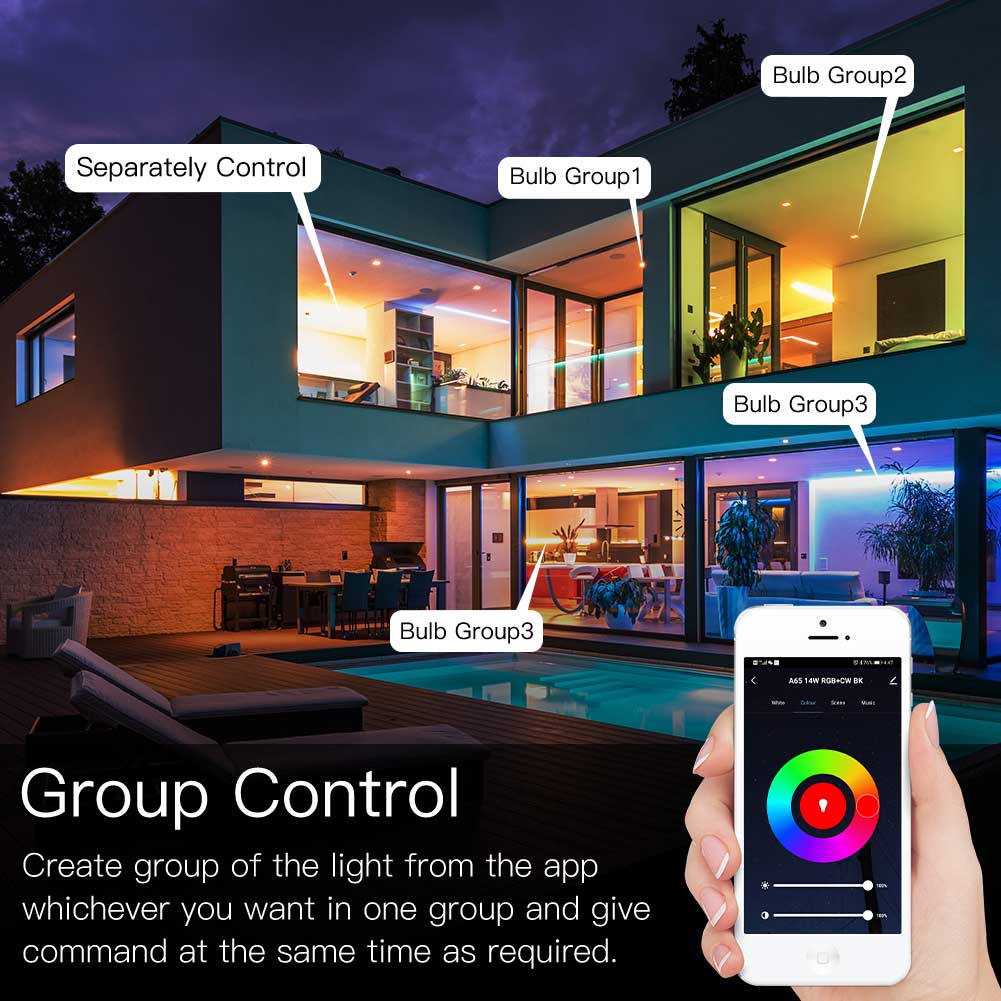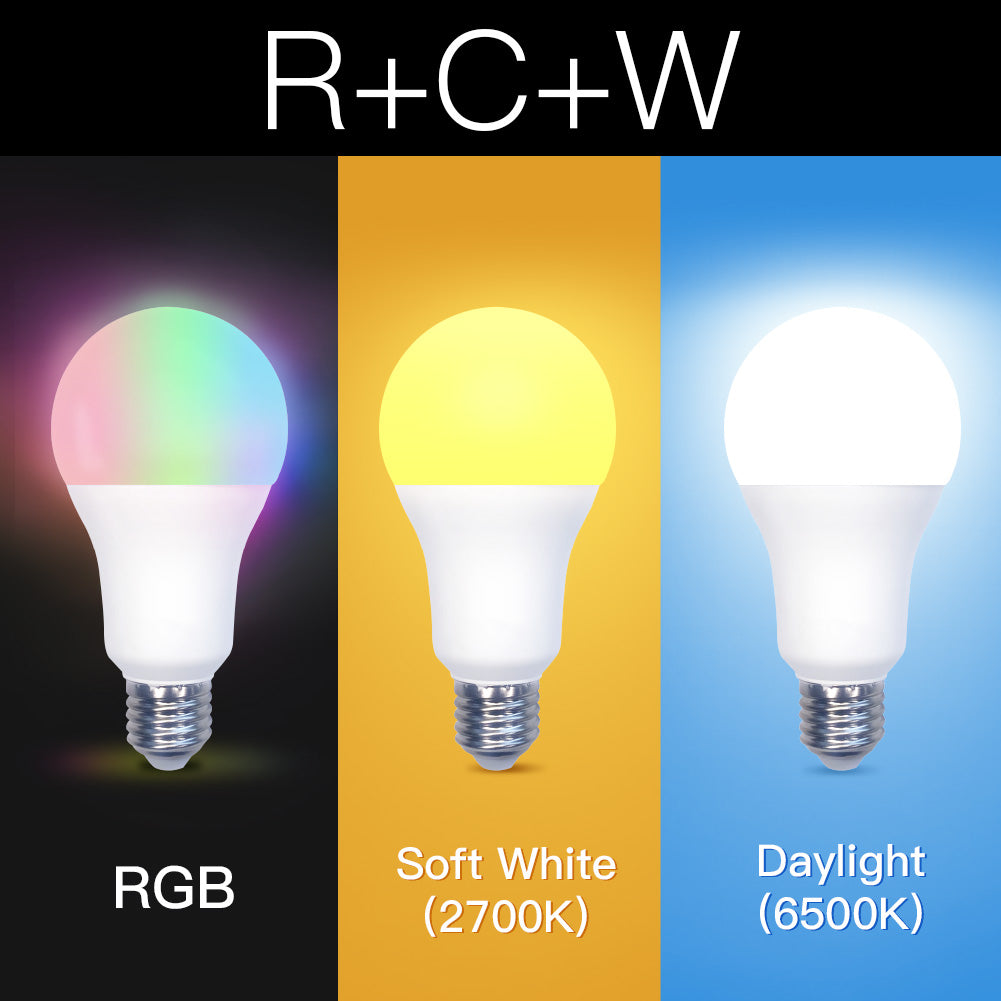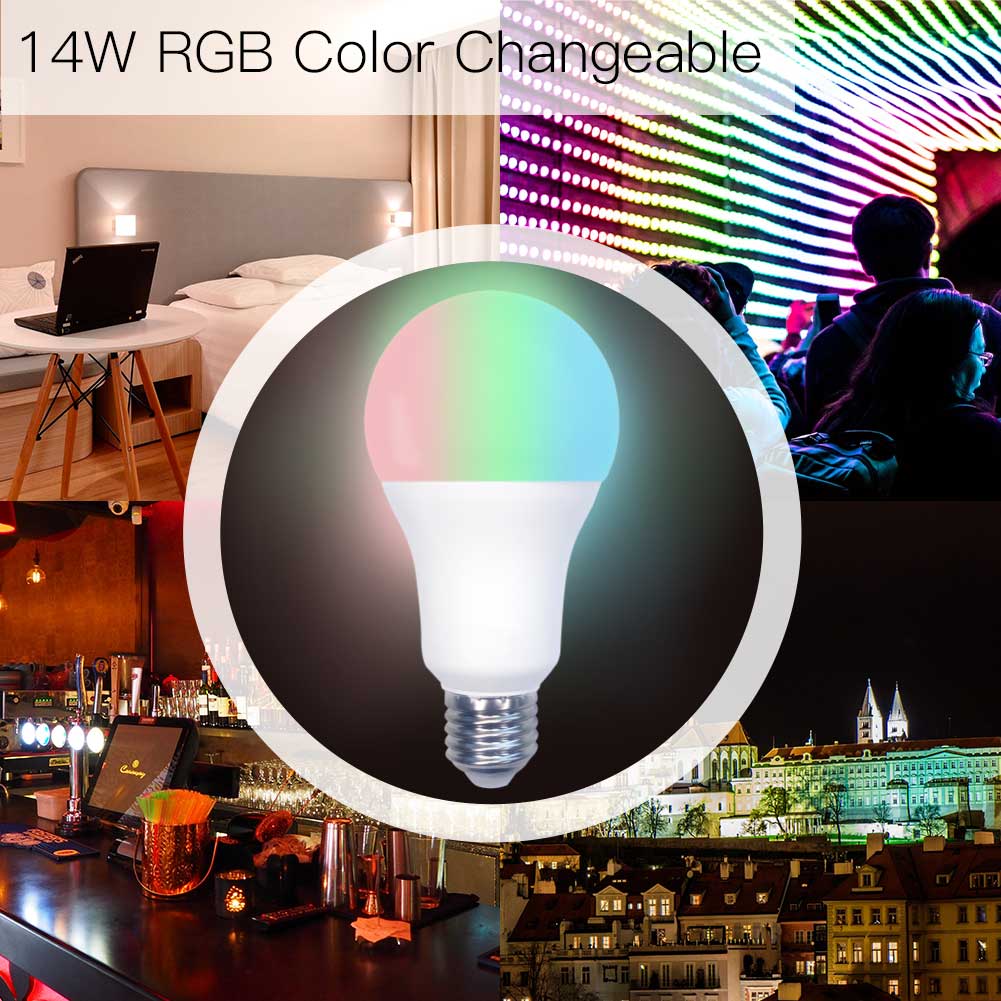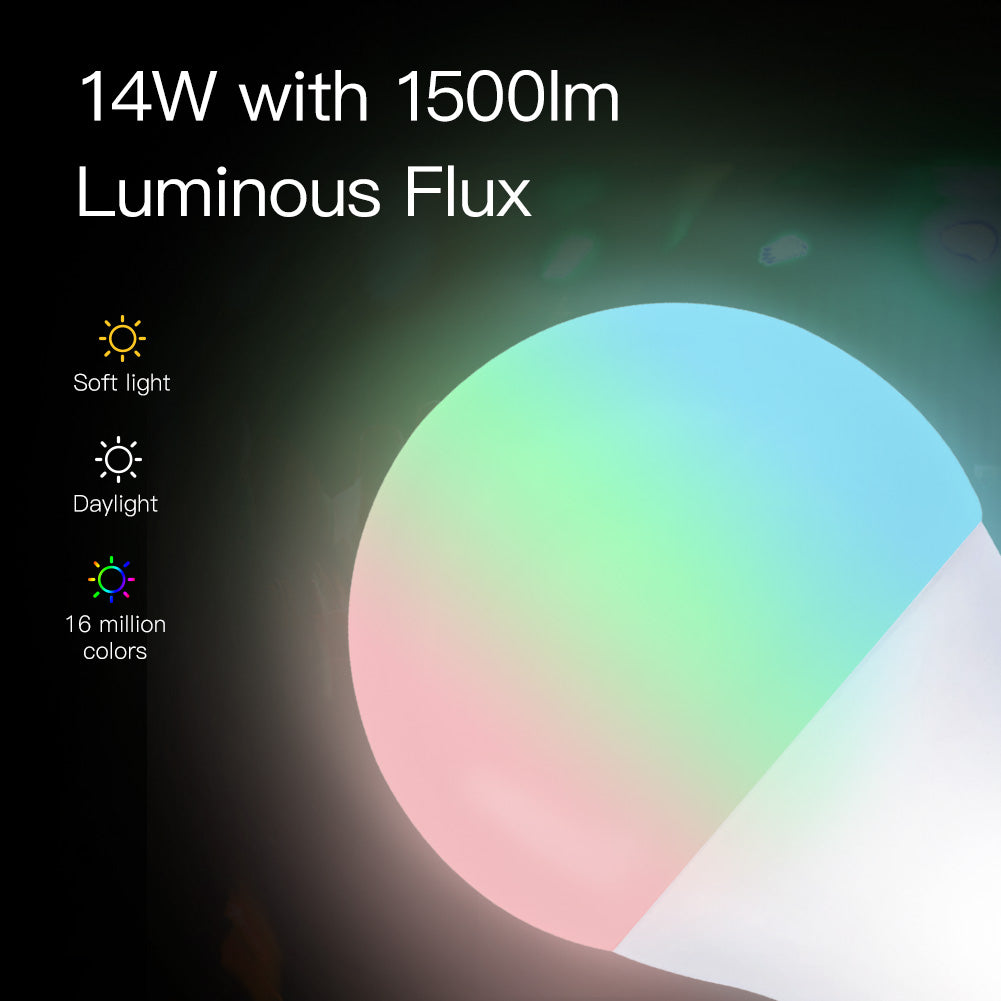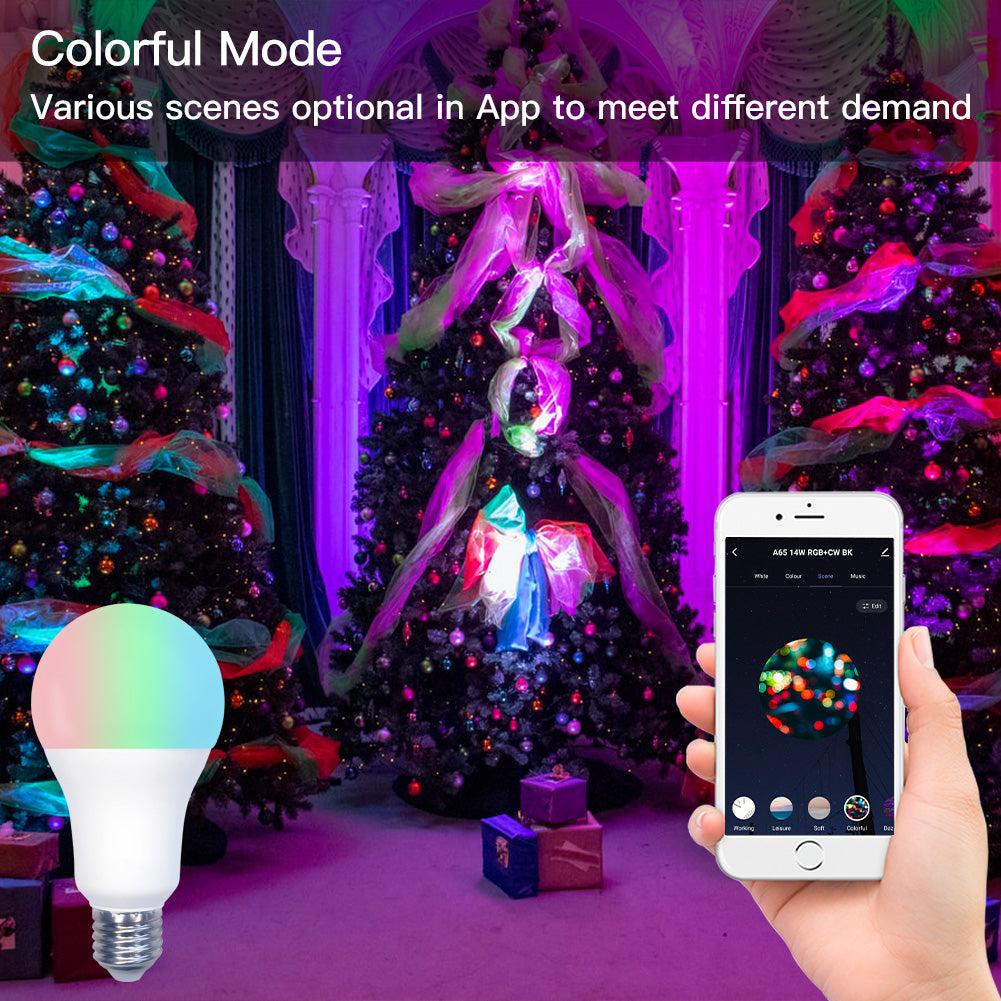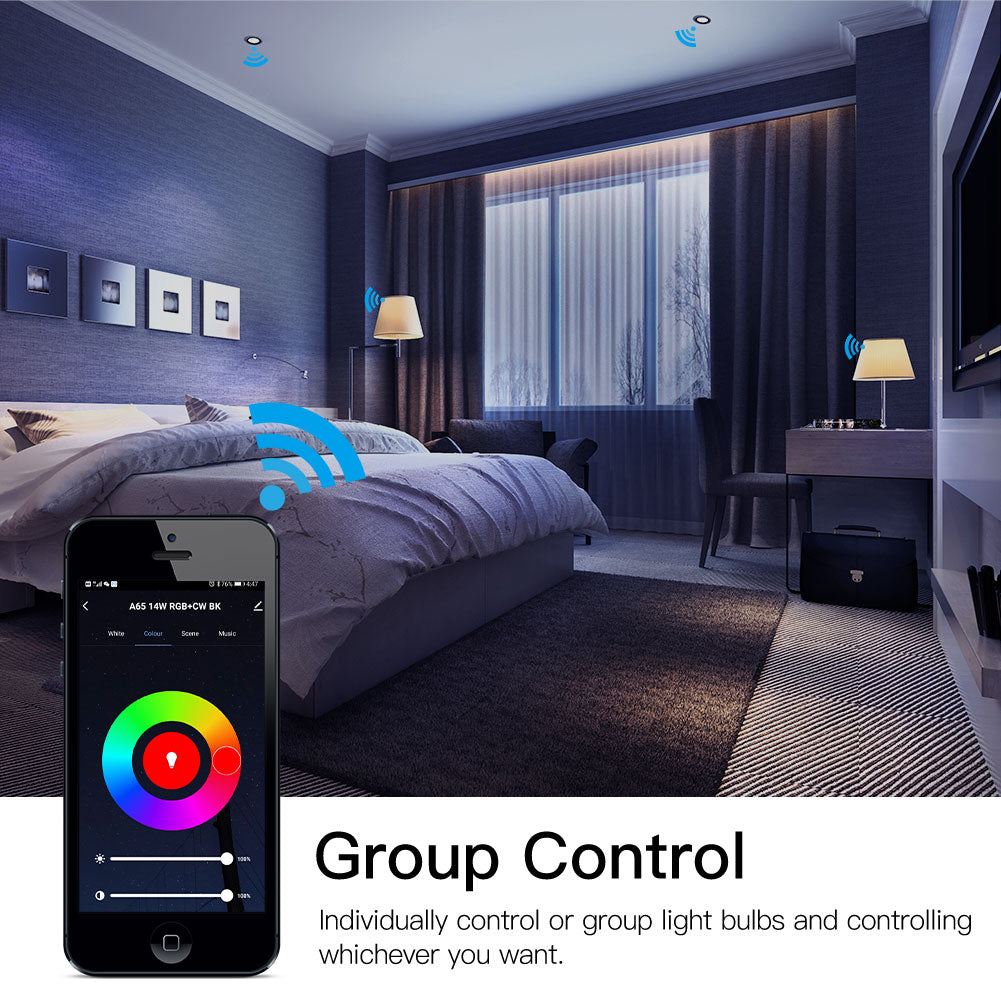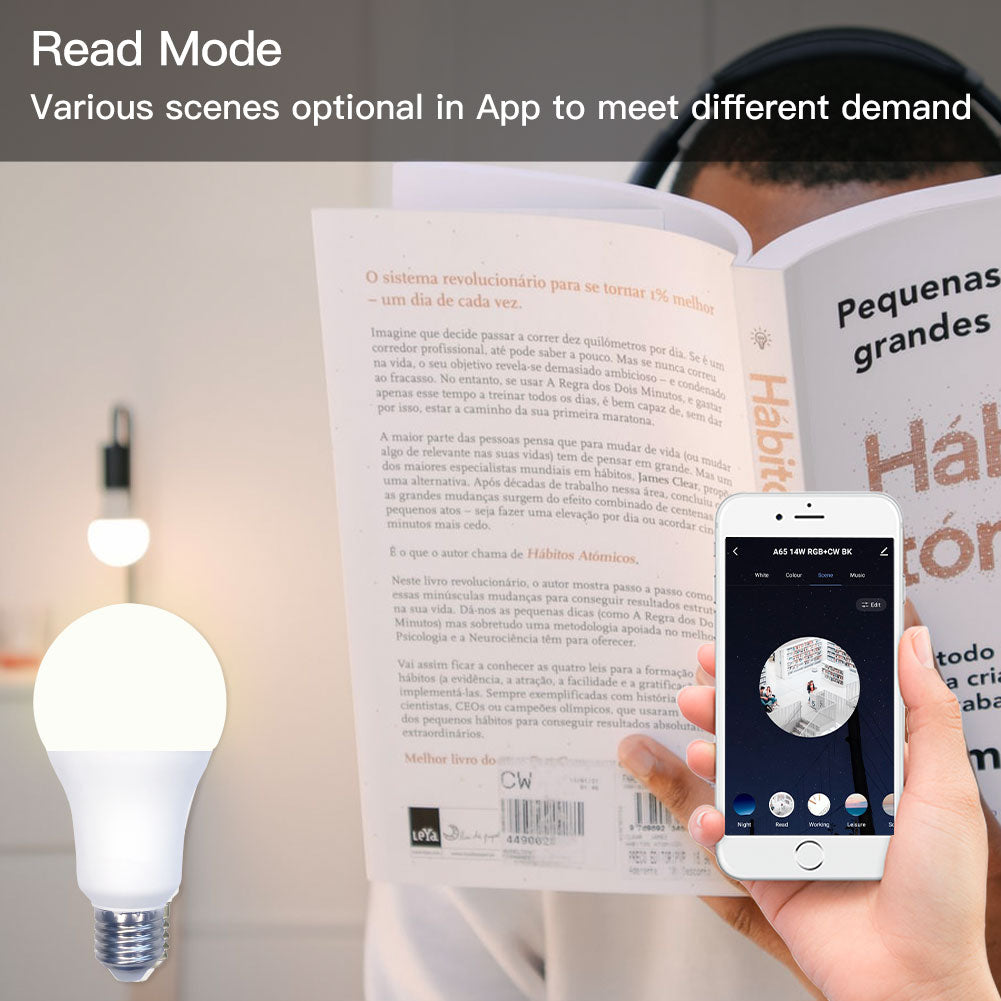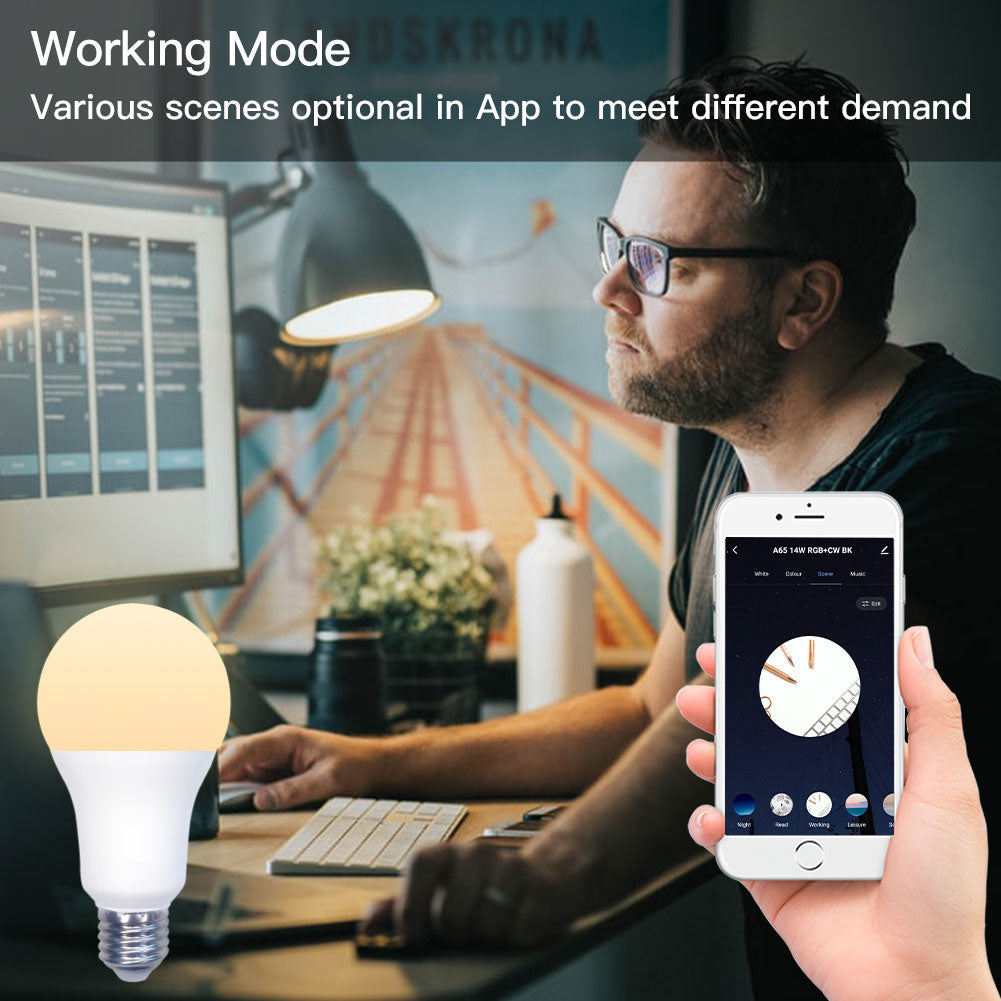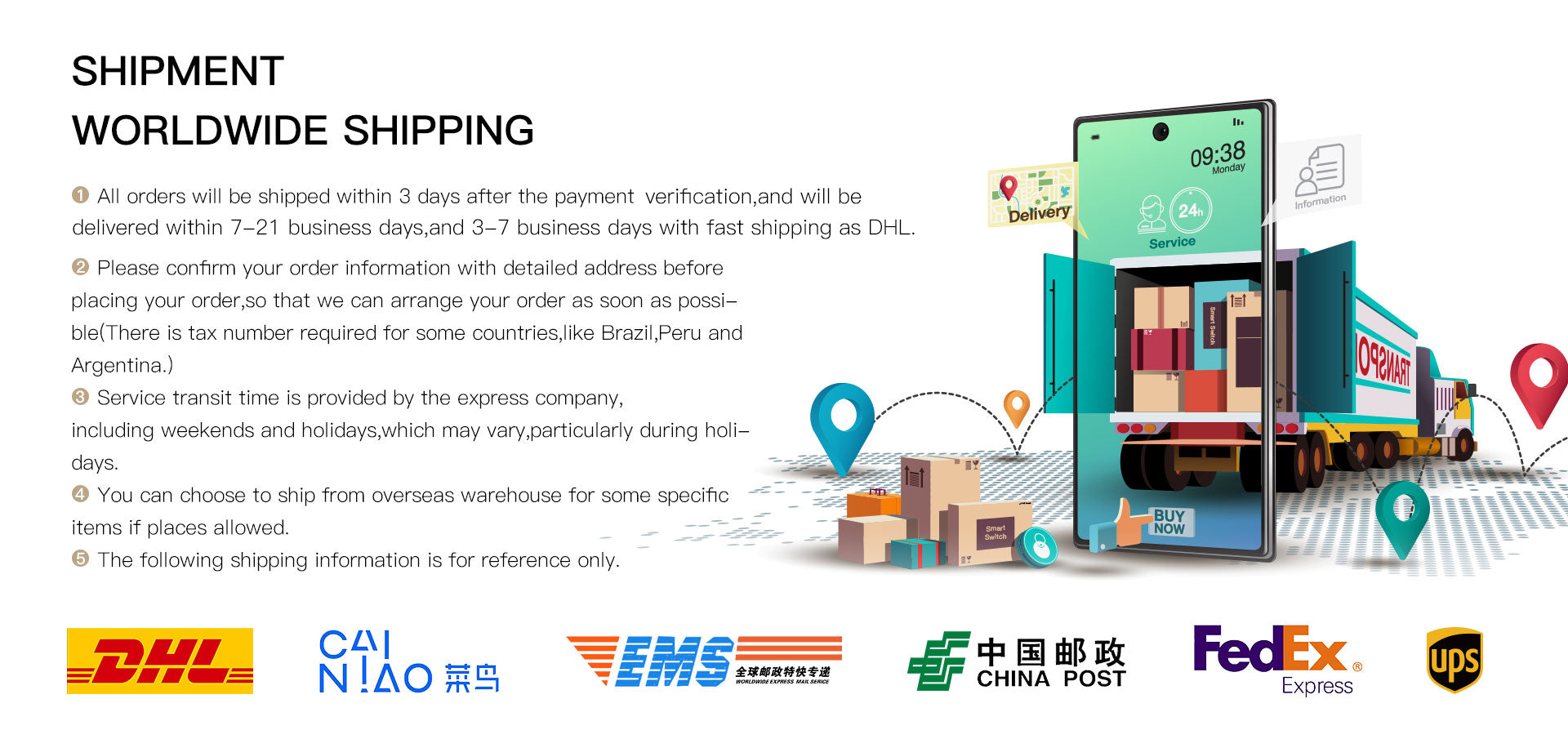 Q&A
1.Can I voice the bulb to turn on?
Yes, it's comparable with Amazon Alexa and Google Home.
2.Can I dim the light to the brightness I want?
Yes, you could dim light from soft white (2800K) to daylight (6200K)
3.Does the light color change?
Yes, switch your light to specific color as you like with a variety of custom scenes.
4.Does it support to set a schedule to turn off the light on time?
You can schedule your light bulb to automatically turn on/off on your daily routine.
5.Can I remotely turn on the light?
Yes, the bulb can be controlled anytime from anywhere via your smart phone.