New Arrival Upgraded with More Personalized Points:
Update1:New ZigBee version with Alexa and Google Home for voice control supported.
Update2:Ulimitset and dimitset available in APP
Update3:ZigBee smart version with ZigBee hub required in Tuya Smart Life APP for easier wireless remote control and 2MQTT setup Available
Update4:Every ZigBee device with heavy current can act as a communication relay for another heavy current ZigBee device like socket,switch,thermostat and so on with the range of 20 -30m,performing as a ZigBee Mesh(ZIGMESH) for highly stable signal network.(Note:This feature is not for light current ZigBee device and also not ZIGMESH functions featured.

Main Features:
Smart Home Automationwith ZigBee Hub Required: ZigBee protocol built-in requires a ZigBee hub connected before normal use.Automate your existing blinds, shades, curtains in the simplest and most cost-effective way. Motor can set upper & bottom limit positions and limits can be saved even when power off. Motor speed can be adjustable in Smart Life Tuya APP. Simply add motorized shades to your smart home with Smart Blinds Drive Motor!Compatible with a variety of shades, blinds, curtains, and drapes with the new update manual.(Note:The ZigBee hub is not included in the package,you need a separate purchase in our online store.)
New upgraded with Alexa and Google Home supported for simple voice control of connected devices to turn on/off them in a much easier way.(Note:Pay attention to the command with turn on/off available,not open/close.)
Control via SmartLife Tuya App Freely: Control your new smart blinds directly with Tuya Smart Life App or its intuitive Touch Strip controls. Even you want to move your blinds from your bed,your couch or with one touch on Gear.Wireless remote control your connected devices anywhere you like with ZigBee hub connected in advance.
Li-battery Charging: Powered by charger(adaptor is included) ensures long time continuous workingwith the large battery capacity.Even save more money and energy low power consumption. 
Set scheduleand timer of your blindsSet custom schedules and accurate timers to your own need.No installers or a degree in rocket-science required. Easily install and setup Blinds Drive Motor in minutes. Works with any plastic beaded chain or metal beaded chain that is looped.
Parameter:
Model:AM43-0.45/40-ES-EB
Input Power:DC charger 8.4VDC
Lock-rotor current:1.8A
Speed Range:20-40rpm
Torque:0.45Nm
Rated Current:1A
Battery Capacity:7.4VDC/1000mAh
Frequency:2.4GHz
Password:8888
Packing Listing:
Moes Smart Blinds Drive Motor*1
Adapter*1
Screw*2
Gear*3
3M VHB*1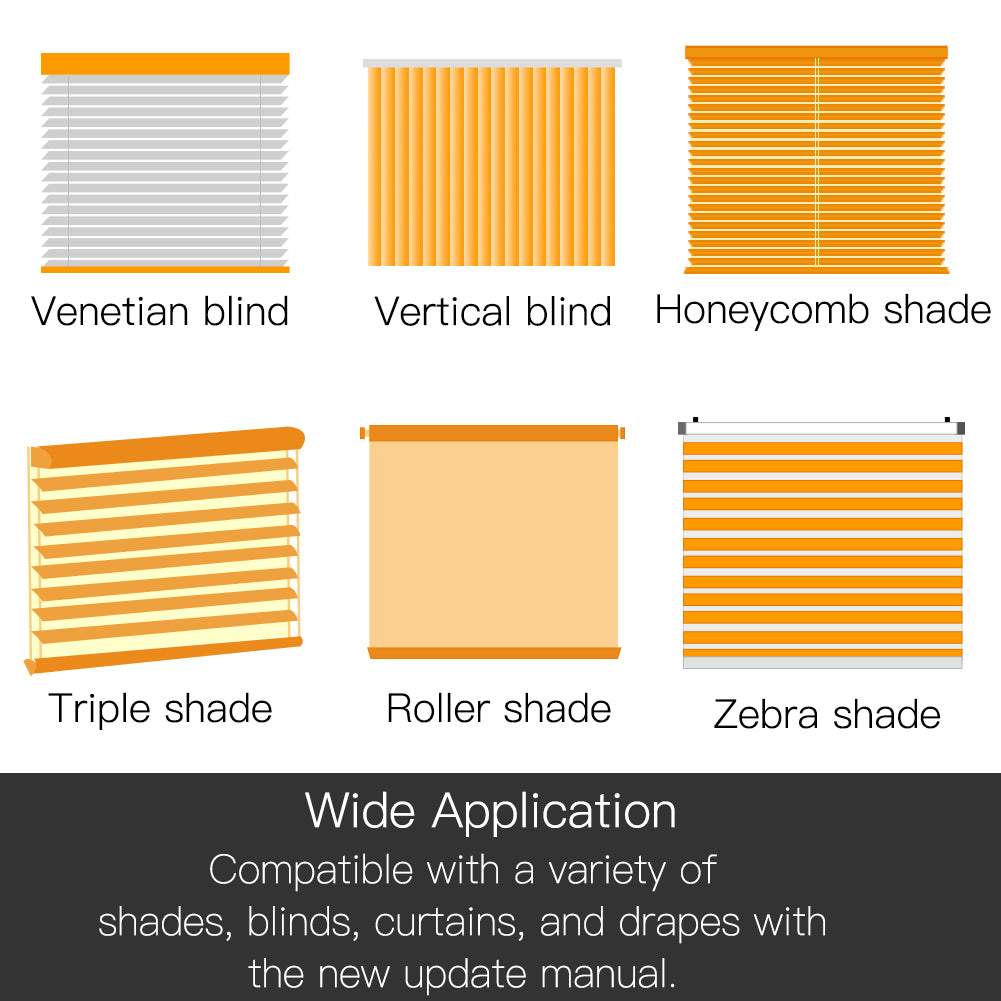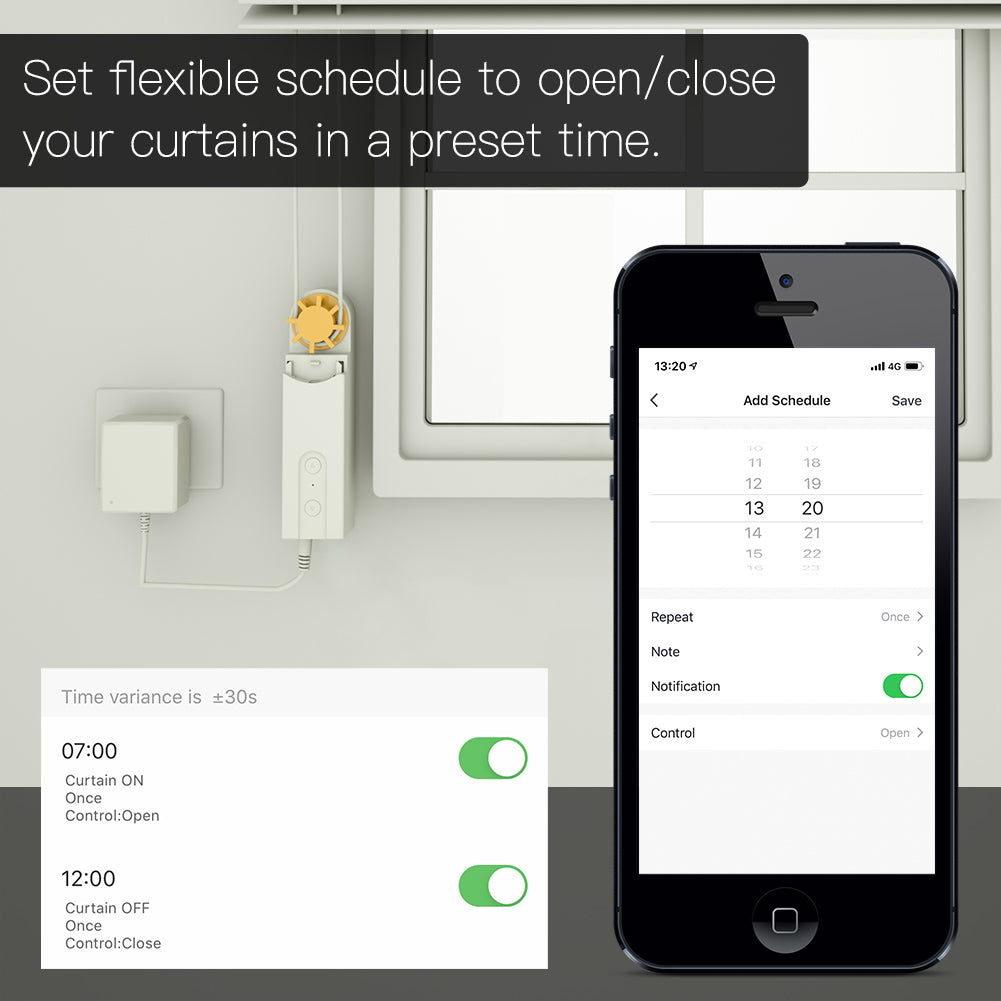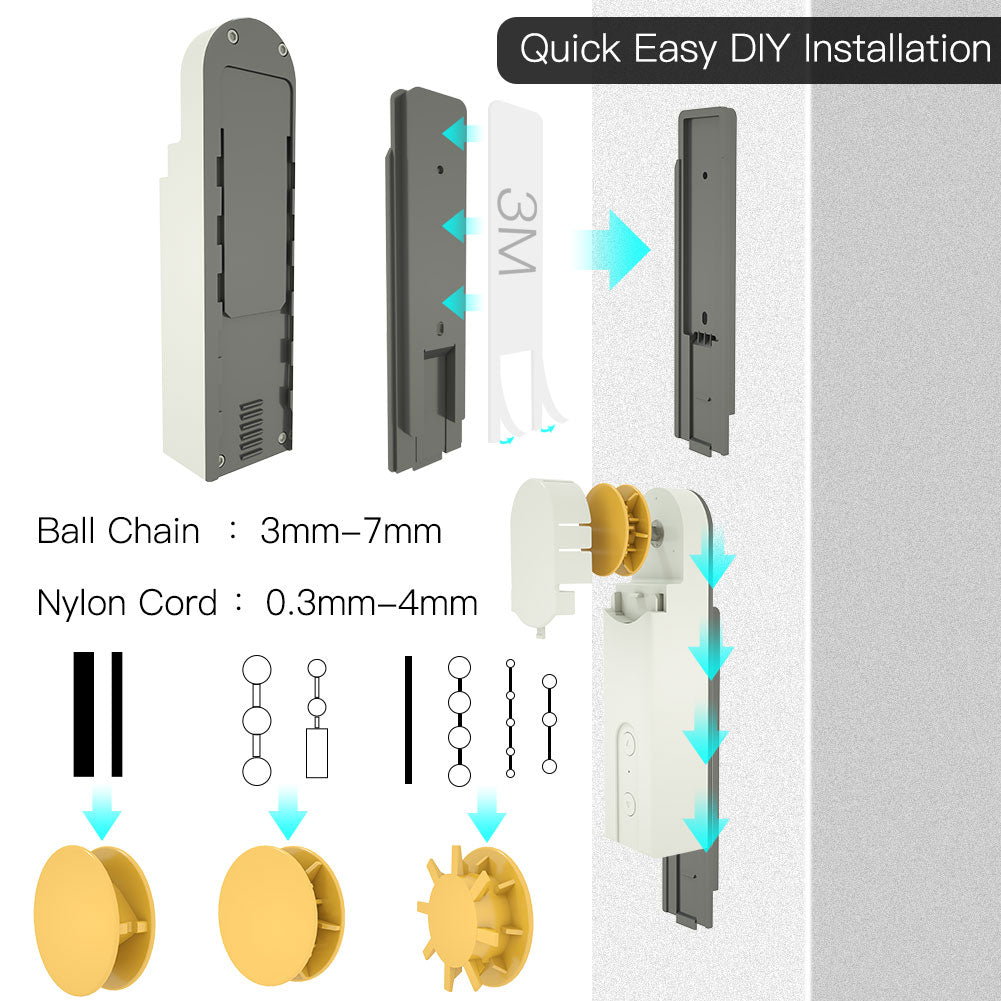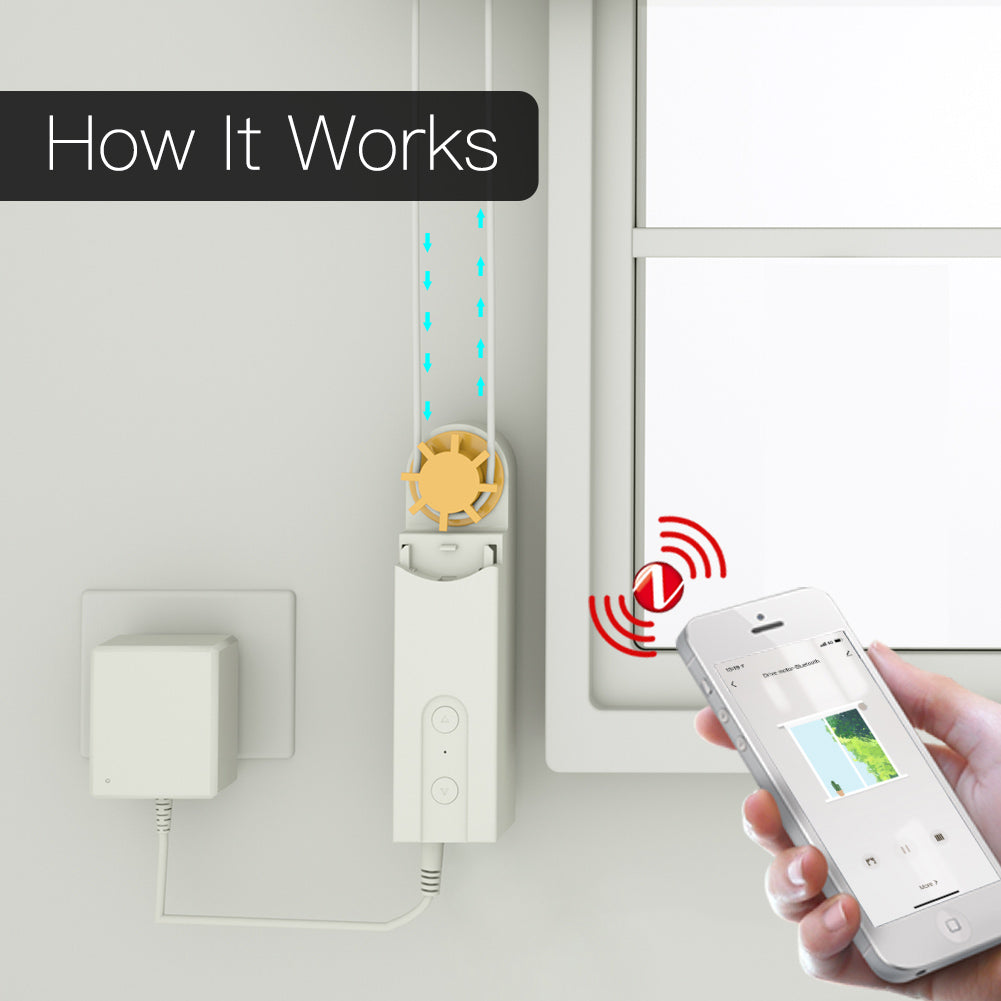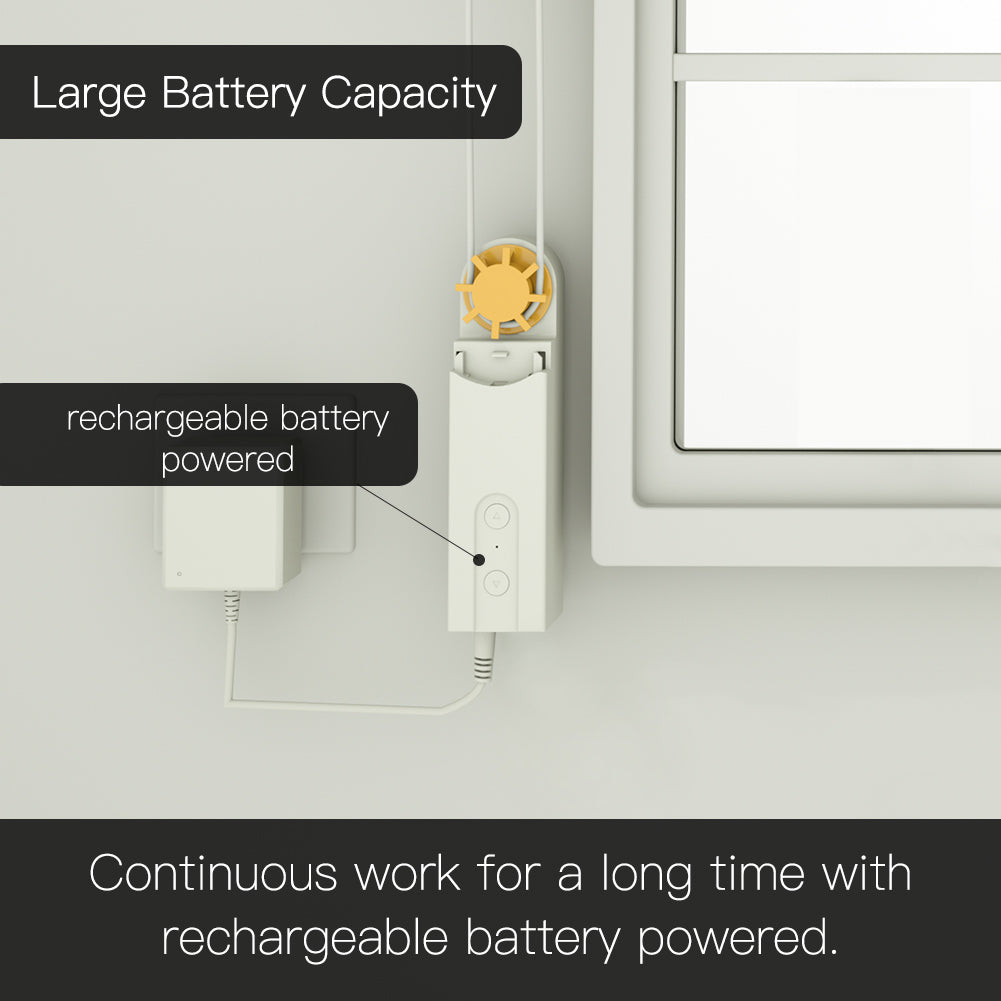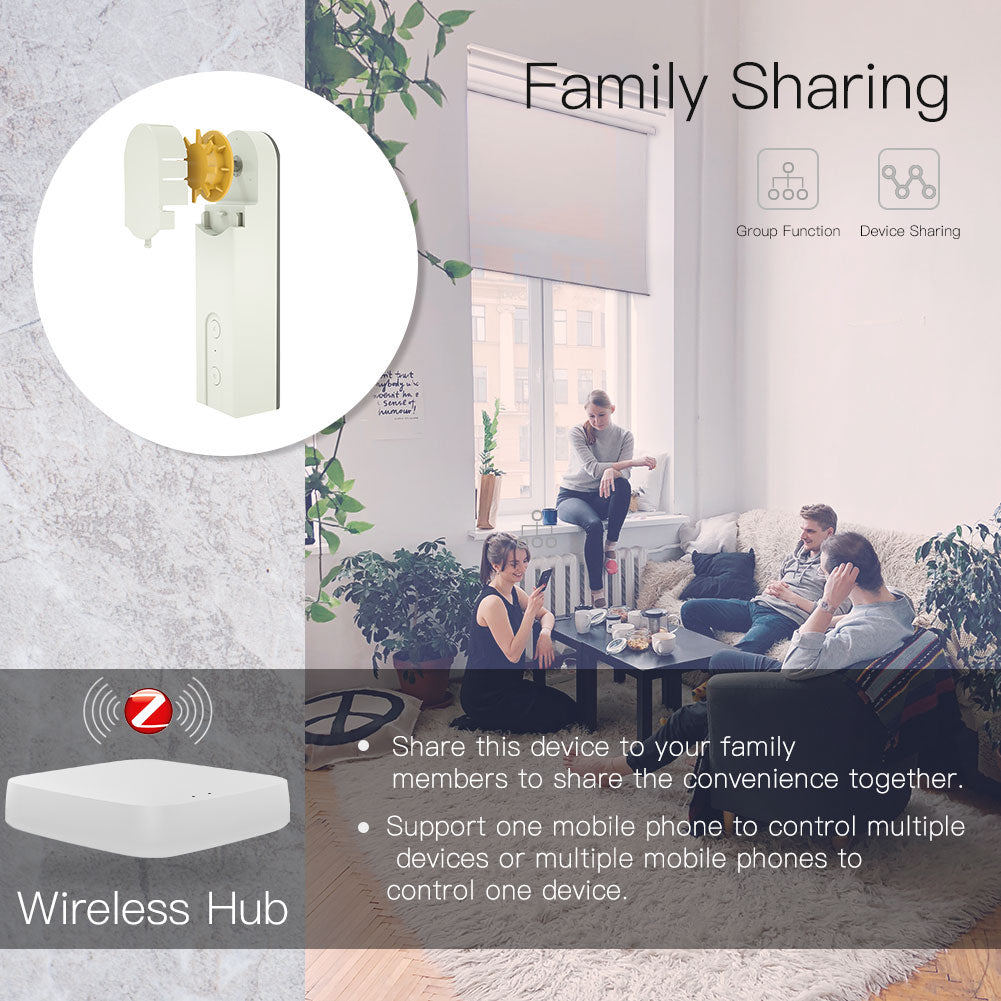 Q&A:
Q:May I share the control with family members to control the blinds together?
  A:Yes,this new update version is compatible with Smart Life Tuya App that supports device share to your family members for added convenience.
Q:Does the motor work with Google Home or Alexa?
  A:Yes,this motor works with Alexa and Google Home for simple voice control.
Q:Does it only support to control via the App?How about the old who can't use the App?
  A:Free App control is just a way to control.For the old,they may just press the UP/DOWN button on the motor itself to control without using App.
Q:Do I need to connect with Bluetooth before its normal use?
  A:No,our motor is newly designed with no Bluetooth required.It is a ZigBee smart version .
      5.Q:If I have several of this kind of motor,can I use one App to control them together?
  A:Yes,the App can add maximum 7 devices.
     6.Q:Can I use this motor to control loop corded cellular, honeycomb shades or vertical blinds?
  A:Absolutely,this motor works with any plastic beaded chain or metal beaded chain that is looped.
     7.Q:Is a hub required for this device?
 A:Yes,it is a ZigBee protocol device that requires a ZigBee hub for normal use.
    8.Q:Is the hub included in the package?
  A:No,the hub is not included in the package,you need a separate purchase in our online store